The Minuteman Education Program
Visiting Grand Forks last spring made me realize that it had been 50 years since Dec. 19, 1971, when I participated in the commencement exercises at the University Fieldhouse on the University of North Dakota campus.
That day, I graduated with a Master of Science in Industrial Management, thanks to the Air Force Institute of Technology's Minuteman School at UND.
I came to Grand Forks Air Force Base (GFAFB) after graduating Officer Training School and being appointed a missile launch control officer in the Strategic Air Command. I was glad to report to the 447th Missile Squadron of the 321st Strategic Missile Wing in September 1968.
This was my chance to serve my country, as well as advance my education at the University of North Dakota.
The Minuteman Education Program (MEP) was established for launch control officers like me because our missile alerts were scheduled around program classes, and we could study while on duty at the launch control centers. One of the program's requirements was to complete an independent study. My subject was the Bank of North Dakota, and my faculty advisor was Dr. Richard Larsen, then Lieutenant Governor of the State of North Dakota.
Prior to receiving my draft notice, I had worked in the procurement function at Diamond Shamrock Corp., after graduating from Drexel Institute of Technology. The MEP courses helped me understand my employer's manufacturing processes as well as our supply chain.
I met my wife, Sandy, in 1969, when I was home in Pennsylvania on leave. We married the following year and lived on GFAFB. She taught at Grand Forks Red River High School.
Diamond Shamrock kept a job open for me, so after graduation and a mandatory extension of my active-duty service, we headed to the new job assignment in Deer Park, Texas, on June 1, 1972. My experience set me up for a successful career in procurement and internal audit, starting in the private sector and finishing in the public sector doing performance audits for the Ohio Auditor of State.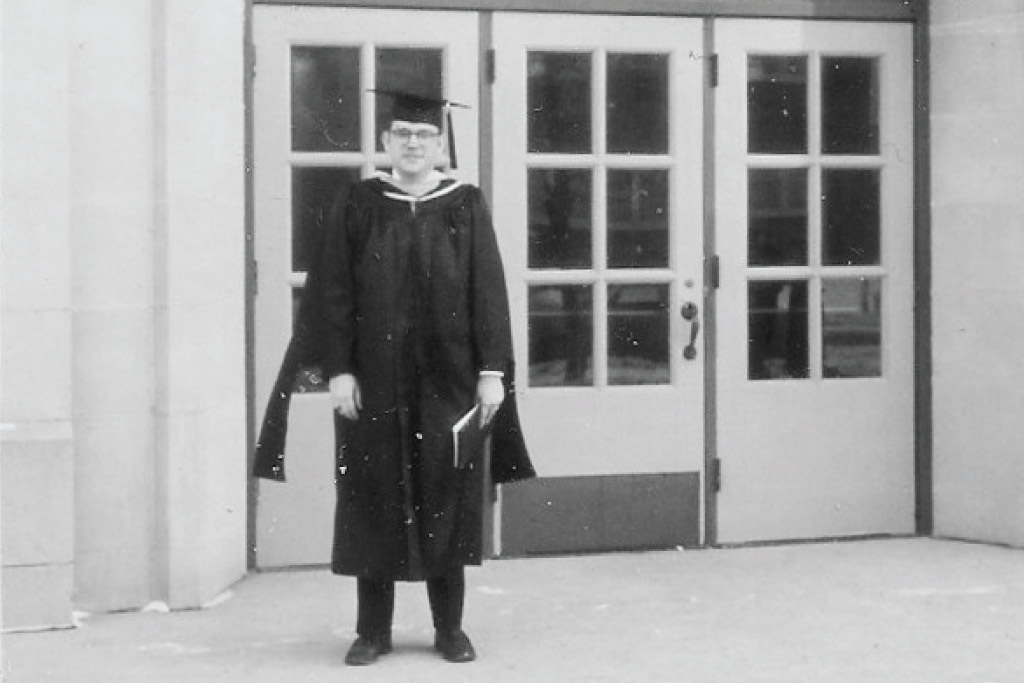 UNLOCKING THE HISTORY

So how was the Minuteman Education Program developed at GFAFB? Over the course of several days, the professional staff at the Chester Fritz Library's Elwyn B. Robinson Department of Special Collections helped me identify several pertinent documents that answered my question.
The 321st Strategic Missile Wing was activated in November 1964 and became operational in December 1966. During this time, Strategic Air Command wanted to offer their missile launch control officers an opportunity to gain educational training. When plans for a graduate degree in Aerospace Management and an MBA program fell through, UND proposed a program like one they established at Minot AFB in 1962. This program, known as the AFIT/Minuteman School, was organizationally under UND's accredited Graduate School and offered a master's degree in Industrial Management. The Air Force Institute of Technology accepted UND's proposal in late 1965 and the GFAFB/AFIT Minuteman School became a reality with the signing of a contract in January 1966.
Initially, classes and space for faculty and staff were housed in base trailer facilities. Eventually, they were moved to the GFAFB Education Center that was constructed in a building also used by the 319th Bomb Wing.
Wing Commander Col. Gerald Fall, in an August 1967 memo to 321st Missile Wing Officers, expressed his personal support for the MEP. He noted this was an opportunity to expand one's understanding of management disciplines that contribute uniquely to career progression.
According to UND's School of Graduate Studies, 119 Master of Science degrees were awarded though the MEP from 1969 to 1977. In addition, UND's College of Business & Public Administration achieved accreditation in the early 1970s and began an MEP Master of Business Administration degree, with 341 graduates between 1973 and 1985.
Even though the program ended in 1985, it began a long and beautiful relationship between UND and GFAFB that continues today through education, innovation, and research.
I am glad I took advantage of this opportunity when I was on active duty and have never once regretted it.