The Evidence is Clear
A group of UND forensic science students is outside O'Kelly Hall making casts of shoe prints in the snow on a bright morning in early March.
Each group makes a print, measures it, takes pictures, fills the print with plaster, and waits for it to harden. After a few minutes, they carefully remove the mold from the snow.
The results are varied. Some prints come out perfectly, others in several pieces. But one thing is clear: The students, preparing for their future jobs as crime solvers, are enjoying the process.
Two weeks earlier, the same group of students, this time in a room with walls covered with white paper, are outfitted in hazmat suits for a blood spatter analysis lab. After swinging hammers and other objects dripping with fake blood, they study the patterns on the walls.
"It's something else when students are doing things with their own hands," said Dr. Lavinia Iancu, Director of the UND Forensic Science Program, explaining that the curriculum is 90% hands-on. "I can do the patterns; I can have them in the room and say, 'OK, now you have to measure.' But when they are making the patterns, I can see on their faces. 'Oh, this is what happens!'
"You usually see the types of experiments we do just for graduate students, but I think undergraduate students should be prepared the same way," Iancu said. "All the experiments mean knowledge, and knowledge will make our students the best forensic scientists out there."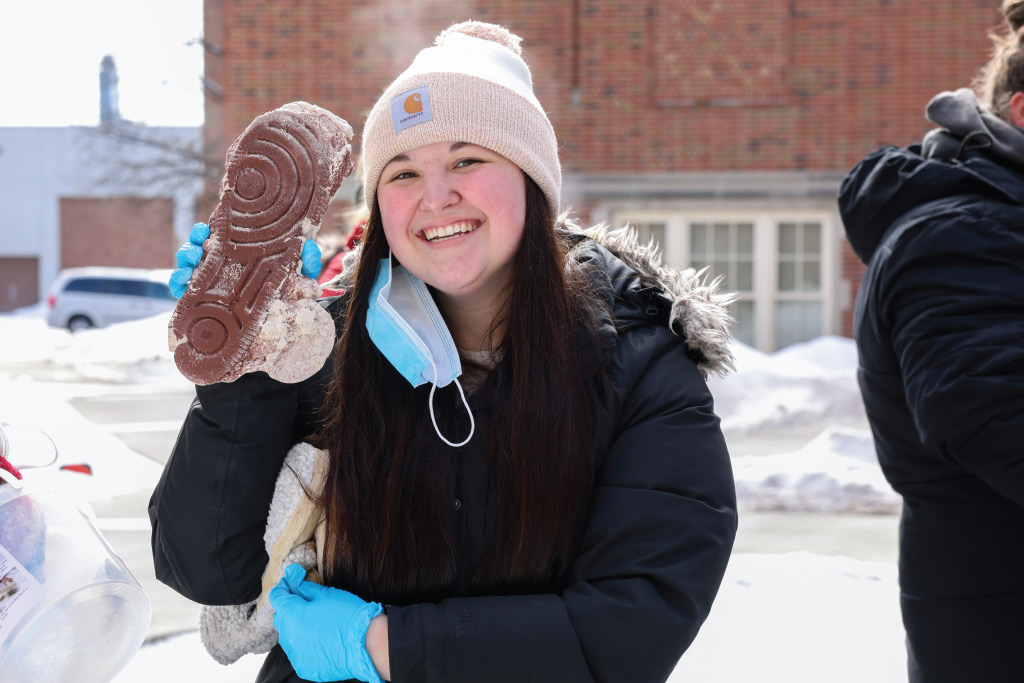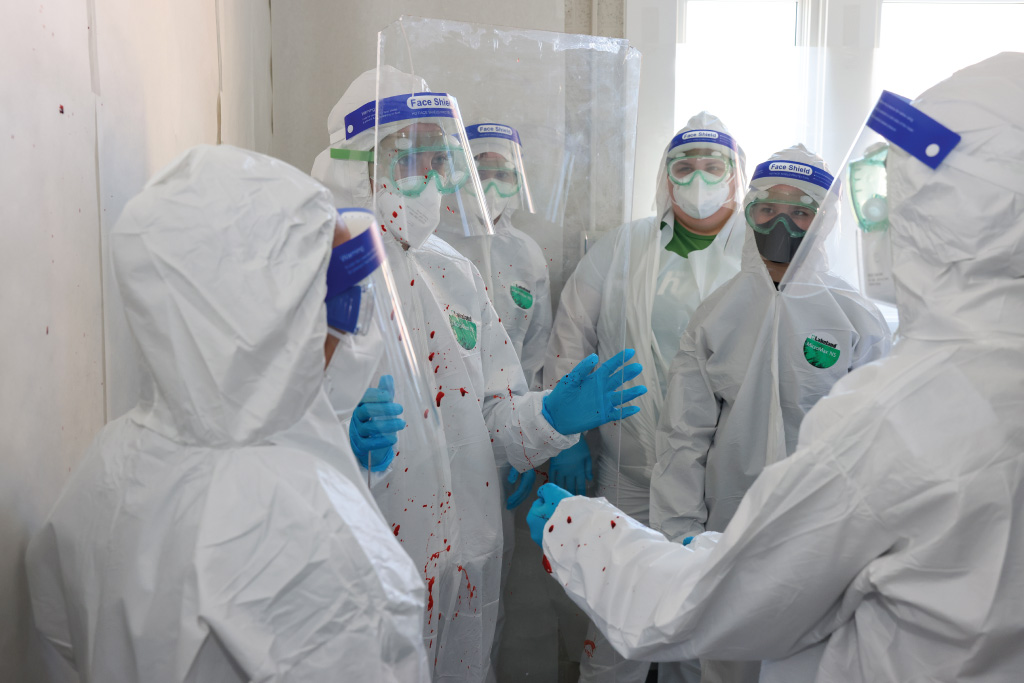 INSPECTING THE PROGRAM
The UND Forensic Science Program, launched in 2000, is one of two four-year programs in the Upper Midwest. Iancu, hired in August 2021, was just six weeks into her new position when Wayne Stenehjem, '74, '77, North Dakota's attorney general at the time, visited UND. He told Iancu and Brad Rundquist, Dean of the College of Arts & Sciences, that the North Dakota State Crime Lab needed to recruit and retain qualified forensic scientists and proposed developing a pipeline between UND's program and the lab.
Establishing partnerships both within and outside of the University was already part of Iancu's plan, and she quickly formed a relationship with the crime lab; a connection that opens communication channels between the two entities and helps prepare UND grads for jobs as forensic scientists.
It's also one of many steps Iancu is taking to achieve accreditation from the Forensic Science Education Programs Accreditation Commission (FEPAC). The goal is for UND to join just four FEPAC-rated institutions west of Chicago. "If we can build our program to a level required for accreditation by the FEPAC, we would stand alone in the region," Rundquist said. "There are no other FEPAC-accredited programs anywhere close to Grand Forks."
The road to accreditation, which ensures students have the resources to qualify for the work world, is long. UND is adding FEPAC-required components, which included hiring Iancu, a program director that meets strict standards. The University has also stepped up its course offerings to include more scientific and laboratory training across forensic science disciplines and has created a capstone class.
With no other full-time forensic science program staff, Iancu's key to success goes back to partnerships. She immediately created an interdisciplinary team, working with faculty in the biology, chemistry, math, and criminal justice departments. These partnerships have already led to the addition of three tracks to UND's Forensic Science major: forensic biology, forensic chemistry, and criminal investigation.
The program is also partnering with UND's chief of police, who teaches a firearms and ballistics course, as well as the Grand Forks County Courthouse and the state crime lab in Bismarck.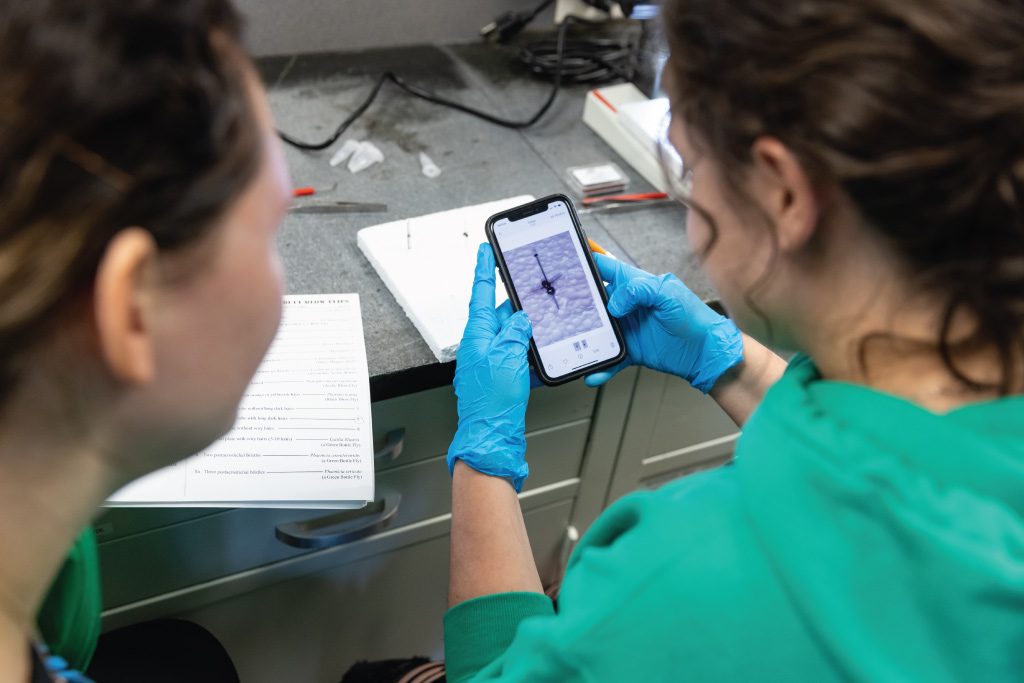 GATHERING THE EVIDENCE
This winter, 36 students traveled by bus for a "very intensive field trip" to the North Dakota Crime Lab to see some of the state's forensic scientists in action. The lab serves all of the state's jurisdictions, counties and law enforcement agencies.
Crime Lab forensic scientist Charlene (Keller) Rittenbach, '05, took the students through the three sections of the lab – DNA, Toxicology and Breath Alcohol, and Forensic Chemistry. "The students said it put things into perspective to see forensic science in a real lab versus sitting in a classroom and thinking about how they would apply that in the real world," Rittenbach said.
Rittenbach is part of the Forensic Chemistry unit. She is the lone scientist qualified to analyze fire debris, and one of six scientists who analyze controlled substances. A plethora of drug evidence awaits their attention. Drugs confiscated from across the state are sent to the lab. The evidence was busting out of its original storage room, so an empty lab now provides more space. Shelves in both rooms are packed with envelopes and boxes.
"The backlog of drug evidence was taking over the space," said Rittenbach. "These are all cases that have yet to be analyzed, so we have some work to do," she said.
The state crime lab currently employs 21 forensic scientists and asked state lawmakers to fund an additional seven scientists to help it keep up with its heavy workload. Legislators voted to fund six positions, Rittenbach said.
"We're not just doing casework," Rittenbach said. "We are validating new instrumentation; we are working with legislative courts and students. We're involved in professional associations."
Rittenbach says UND's Forensic Science Program can be a critical pipeline for new talent and points to the tour as an example of the increased interaction between the program and her lab. "Some changes Lavinia has introduced have improved our communication. We appreciate the increased focus on the lab chemistry track since a lot of forensic science is done in the laboratory," Rittenbach said. "She's also added core DNA classes needed for the DNA discipline, which UND graduates needed to be eligible to apply for jobs in our DNA unit."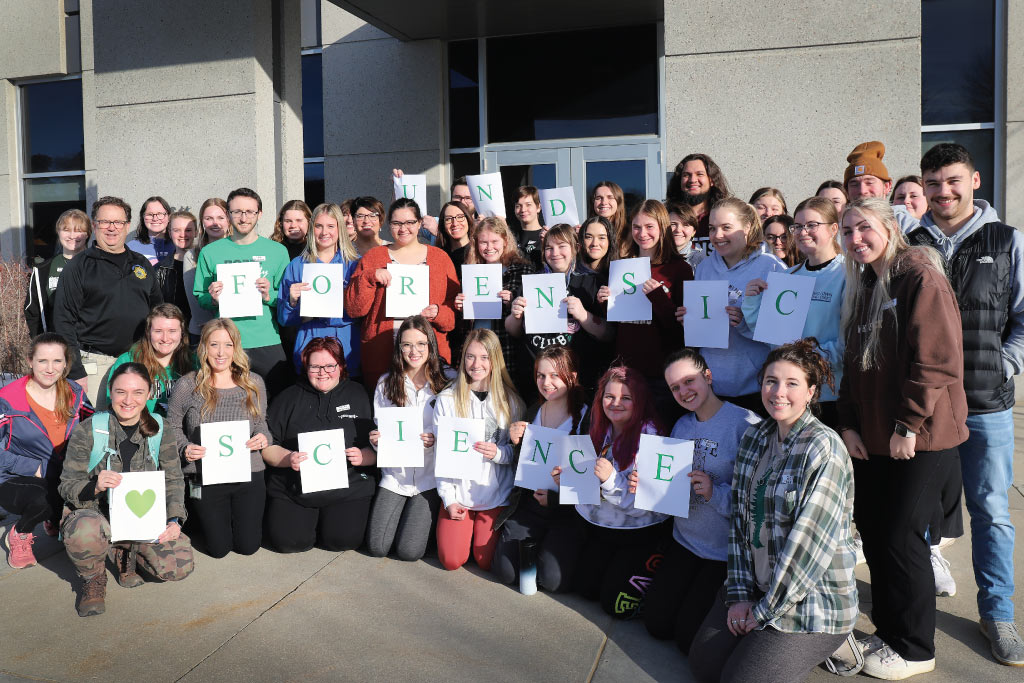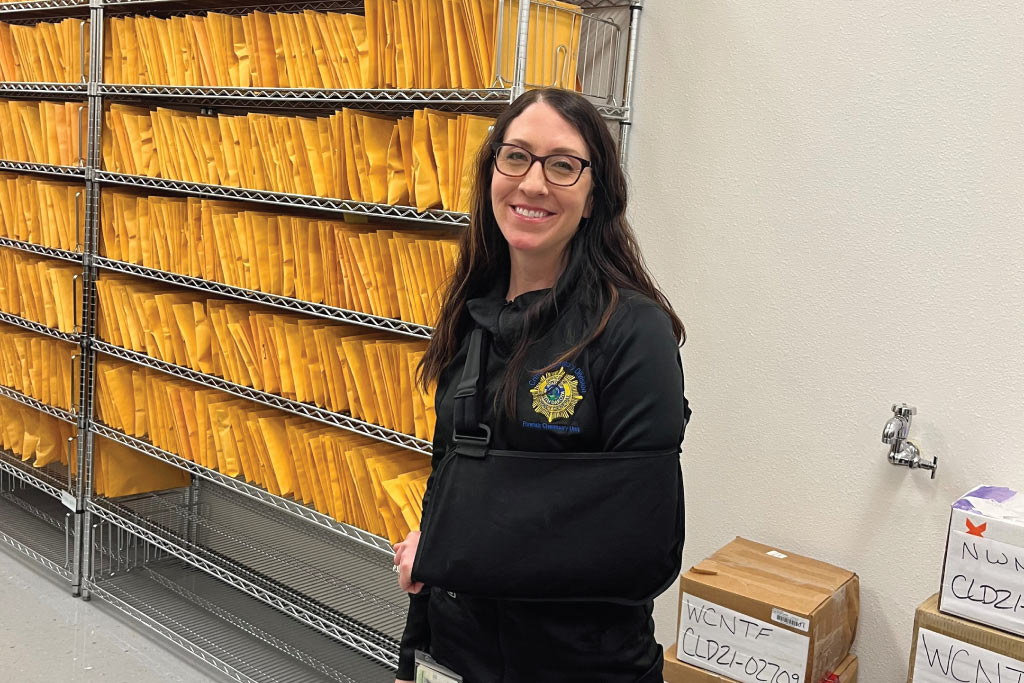 THE SUSPECT: DR. LAVINIA IANCU
This February, Iancu became a fellow of the Pathology/Biology Section of the American Academy of Forensic Scientists, the highest rank of the largest association of forensic scientists. Yet forensic science wasn't Iancu's first career choice. While she was working on a bachelor's degree in medical biology, a professor told her, "You have to have a plan B."
"She told me I would be a good fit for forensic science. I always searched for justice everywhere."
Iancu, a native of Romania, listened and her interest led her to specialize in forensic entomology, in which scientists utilize insect colonization to analyze dead and decomposing human remains. Because of its low crime rate, forensic entomology is not used in Romania. "I was willing to do pro-bono cases, but my expertise would not be counted in a courtroom."
Iancu looked for positions outside Romania, seeking a research-based university. "It was a leap of faith," she said of her decision to come to UND. "Everybody told me, 'the weather, the weather.' I'm having a lot of fun doing experiments in this type of weather."
The weather does come with consequences. "During the winter months, forensic entomology cannot be used," Iancu said. "Insects are not active during low or freezing conditions."
That doesn't mean the experiments stop.
Students in Iancu's capstone class study pig carcasses year-round to see how the environment affects decomposition. Nicolette Ras, a senior who graduated this spring, said the class exposes the students to many potential careers.
For example, students are forensic investigators as they observe and protect the crime scene (the carcasses) and gather insects from them. As the students collect and analyze DNA from the specimens in the lab, they perform the tasks of a forensic entomologist.
As the semester goes on, the students record their findings in a case report and present it in a Grand Forks courtroom. Prosecutors, who volunteer their time, cross-examine the students.
"Testifying [in court] will be the students' final act each time they do an investigation," Iancu said.
The capstone course doesn't end in the courtroom. In the last few weeks of the course, students are on-call and participate in autopsies at the UND Pathology Center, which provides autopsy services for eastern North Dakota and some of South Dakota and Minnesota.
Ras, who is "really passionate" about forensic science, is a teacher's aide for Iancu, a phlebotomist and has an internship with the pathology center, which Iancu helped her get. Ras appreciates that help and all the ways she and the other students get to apply the knowledge they've attained through field trips and fields full of pigs. As a recent alumna, she hopes to attend medical school and eventually become a medical examiner.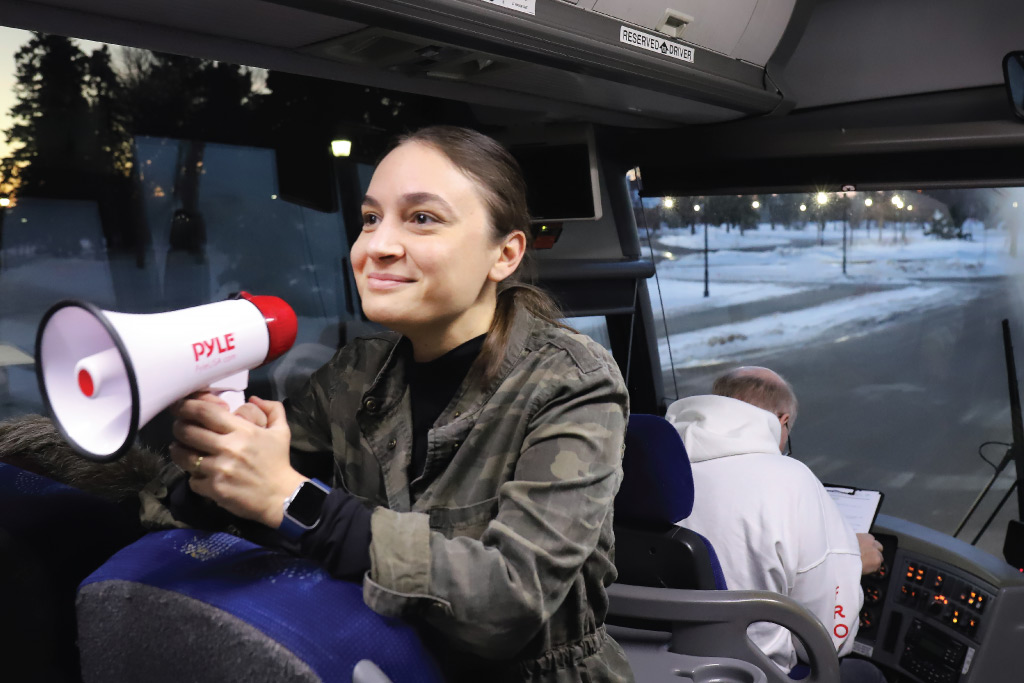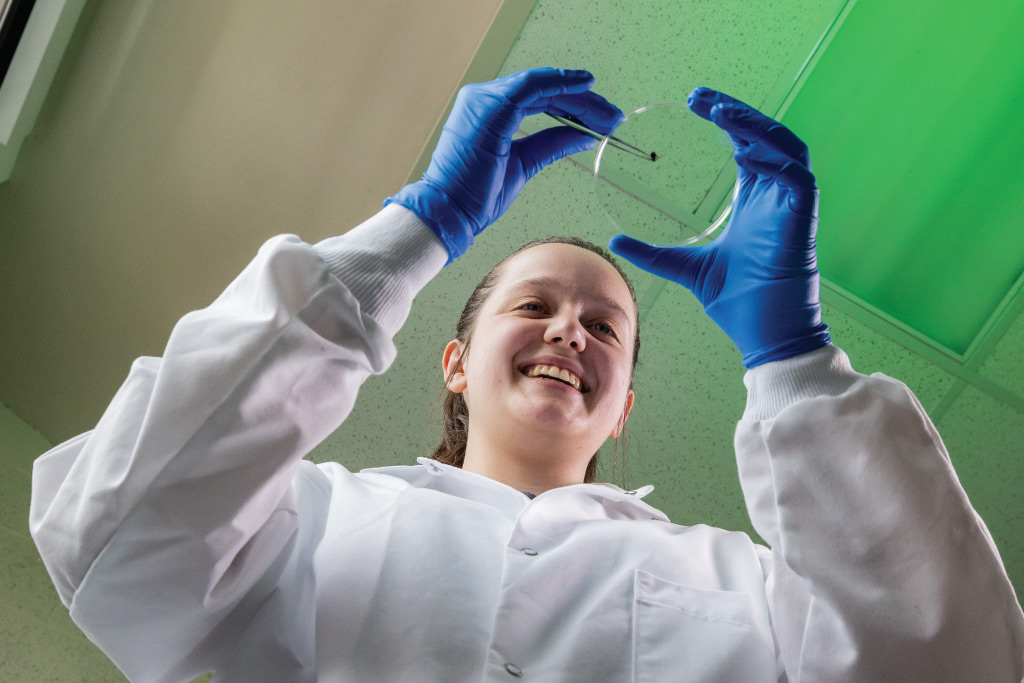 ... knowledge will make our students the best forensic scientists out there.

Dr. Lavinia Iancu
CLOSING ARGUMENTS
Ras' internship is indicative of the work Iancu puts into helping students identify the next steps in their academic and professional journeys. She seeks opportunities for students to do research grants and be research assistants and keeps a list of master's programs. "I am trying to prepare the students for after graduation. This is what stresses me most – having students graduate with the tools they need to be successful," Iancu said.
Back in Bismarck, Rittenbach said that once on the job, forensic scientists have much to learn. "In school, the education is very broad and that's a good thing because there is so much to know. But these jobs are very specific to one discipline. On the job is where you get into the meat of everything we do."
And even after you're up to speed on the job, Rittenbach said that learning doesn't stop. "You really do have to keep up with new trends, the new literature, the new instrumentation. We go to a lot of training. I feel like I'm in school a lot. It's not stagnant and I really like that.
"This job is constantly changing," she continued. "Science is changing and evolving; the evidence is different all the time. Every day is different."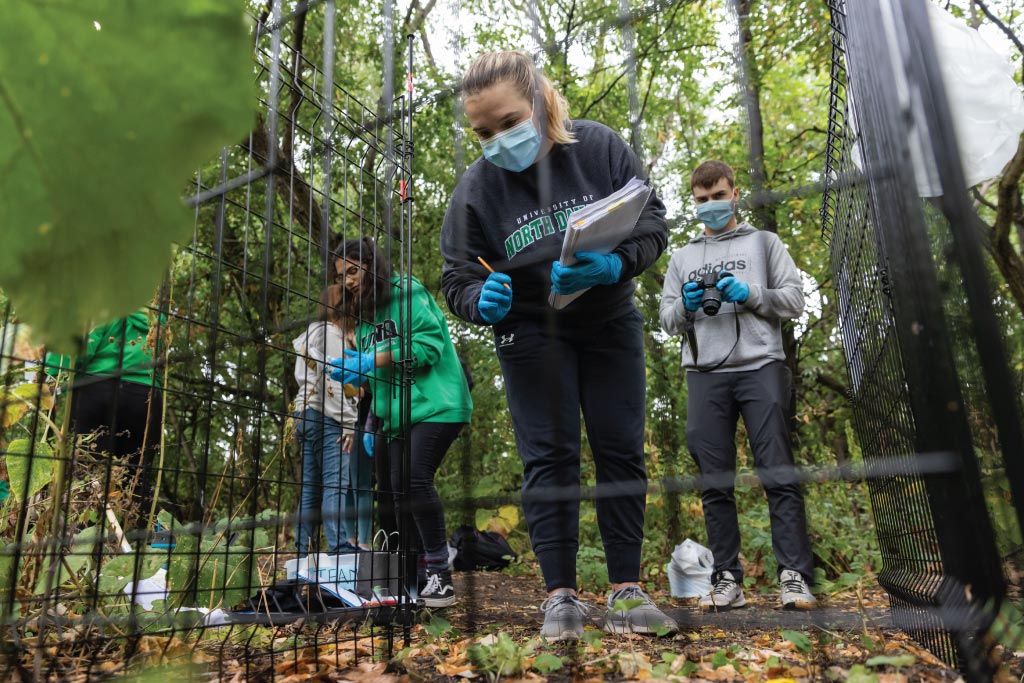 THE VERDICT
Television crime procedurals like "CSI" glamorize the jobs of forensic scientists. In reality, scientists aren't responsible for the entire investigation and are seldom in the field. Rittenbach said they are a piece of the puzzle, spending most of their time in the lab. Still, the individuals involved in the UND Forensic Science program are happy with their education and career choices.
"I came to UND because they had a forensic science program," said the soon-to-graduate Ras. "The real-life experiences are what I like best about the UND program. Not only are we learning information, but we are applying it. I can get really passionate about forensic science!"
Rittenbach said her job is the "perfect merger" of science and law. "Forensic science is the application of science to law. Being able to do the science part, to analyze the evidence that is then used in court to prove or disprove a crime is awesome."
Iancu, the program director, wanted a job that had meaning and was helpful to others. "Having a small piece in the overall big system of justice is very satisfying. I can do this to help."
Working with her students and partners at UND and around the state, Iancu is helping to put the UND Forensic Science Program on the map, providing the training for future forensic scientists to also be a small but vital piece of the overall justice system.
Stay tuned: Not just to your favorite crime procedural show, but to the changes and improvements UND is making to the Forensic Science Program.