'Good Morning, Good Morning. It's Grand to be on Hand'
It was a beautiful, busy morning at the Minnesota State Fair on August 23, 2019, as crowds of state fairgoers rushed to the WCCO Radio booth to watch the 830 AM live show with morning host Dave Lee, '76.
Once I got to the booth, there was nowhere to sit or stand. It was packed. Despite how busy it was, it wasn't hard to spot Lee because he was wearing neon-orange shorts and shoes. That's also where I saw a swarm of people who were huddled around him, waiting to take pictures.
But Lee, knowing I would be showing up in my UND gear, spotted me and greeted me with a huge smile on his face. He told me that doing live shows every summer at the Minnesota State Fair is the highlight of his job.
He took a few more pictures, shook a few more hands and then the show started with the jingle everyone knew.
"Good morning, good morning. It's grand to be on hand. Good morning, good morning to you." Lee and hundreds of people at the state fair sang together.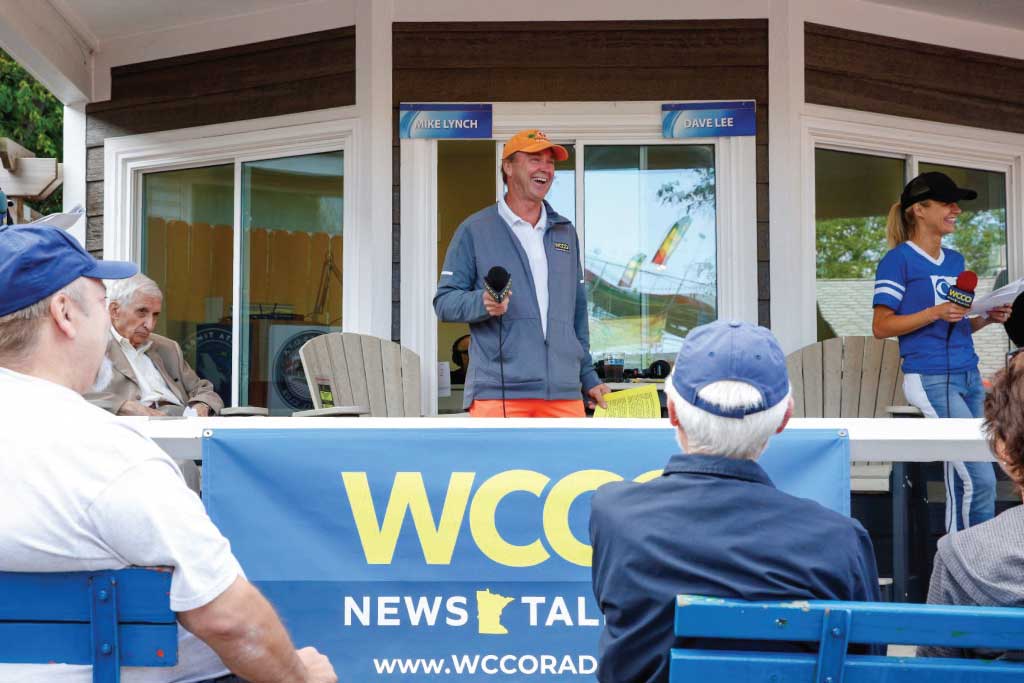 Originally from small-town, Hatton, North Dakota, Lee never imagined he'd be a radio announcer, let alone a well-known one. While attending the University of North Dakota, Lee admits he "wasn't the world's greatest student the first year and a half." He ended up graduating with a degree in history, but his career did a complete 180 when he landed a job as a morning radio host at one of the top-rated stations in the Twin-Cities market, WCCO.
"The fact that I had that degree from the University of North Dakota was a big factor. It didn't matter if it wasn't in mass communications. In fact, I remember WCCO said they were glad I have my degree in something else because it makes me a little more well-rounded," said Lee.
What sparked his passion in radio wasn't sitting in the classroom at UND, it was getting the opportunity to work at a commercial radio station, KRAD, in East Grand Forks back in college. That's what Lee calls his "big break."
"The guy said, 'I'll put you on Sunday from three to midnight, and if you're any good we'll keep you.' I never intended to host a show. That had zero interest. I never thought about it," Lee explains.
After doing the nine-hour trial run, Lee got a phone call offering him the job at KRAD. "I did whatever was needed because I wanted to learn the business.
"The more I knew, I realized it would be easier for me down the road somewhere," said Lee.
For many years following his gig in East Grand Forks, Lee worked at KFGO Radio in Fargo and eventually moved his way up to lead weekday morning host at WCCO.
I always tell [my buddies] they're feeding the world on the farm and I'm just talking to it.
Lee said of the career he's now embraced for more than 30 years that he enjoys every moment of it. "It's enjoyable to go to work," Lee said excitedly, "I love it!"
"It's nice people recognize me, but as my buddies tell me back home, 'you're really no big deal,' and they're right," laughs Lee. "I always tell them they're feeding the world on the farm and I'm just talking to it."
The recognition comes from more than his fans. Lee's received multiple awards, ranging from Emmys to the Minnesota Sports Broadcaster of the Year. He says he doesn't get too caught up in receiving shiny trophies. "I could tell you where they [the trophies] are in my house, and they're in a box," explains Lee. This is because the trophies aren't the reason Lee does what he does. He says the trophies aren't the "end-all."
"This job lends yourself to be part of the community. You can help a lot of organizations. You can raise money yourself. You can do a lot of different things for a lot of people, and that's the beauty of this job," said Lee. For his efforts, Lee was awarded the National Media Award for excellence in Radio Fundraising.
He recommends students to have goals while they're going to school, but to be open to something that might come up, because that's how he became the well-known and well-established man he is today.
"I am flattered by people who say I'm their inspiration, but I bet there's somebody in their life that think they are," Lee said humbly, "what goes around comes around."
Just like that radio dial.