The Purr-fect Pose
Angela Disrud, '94, finds her passion in feline photography.
Our love affair with dogs is well documented. Search #pets on Instagram and it's no surprise that 20 of the first 24 images on the social media site feature canine companions.
But amidst this dog-centric world, Angela Disrud, '94, stands out as a cat person.
Angela has combined her passion for photography with her love for cats to create Boudoir Kitty-Cat Photography in Nashville, Tennessee.
"I love photographing them," said Angela. "I feel like cats never take a bad picture."
PASSION FOR PHOTOGRAPHY
How Angela went from a UND freshman from small-town North Dakota to starting a cat-centric photography studio is a textbook example of how to follow your passion.
Angela graduated with a degree in International Studies. She did not take a photography class at UND; in fact, she would not take a class on photography until she was 28 years old. But she does remember being inspired by an on-campus exhibit of the works of famed Brazilian photographer Sebastião Salgado.
Before embarking on a study abroad trip to Norway, Angela purchased her first camera. "I just started like a lot of people – as a hobby," she said. "And the more you go down that rabbit hole, I just realized I wanted to learn everything about it. I just fell in love and I knew I wanted to take it as far as I could."
A couple of years removed from college and Angela's obsession with her hobby led her to quit her job at a Nashville international freight forwarder to work at a camera shop. She started taking photography classes, began working in a commercial film lab and eventually "took a leap" to start her own wedding photography business.
"I really enjoyed the storytelling aspect of that one momentous day in a person's life," said Angela of the nearly 15 years she spent as a wedding photographer. "It was meaningful work, and it was hard work, but I really enjoyed it."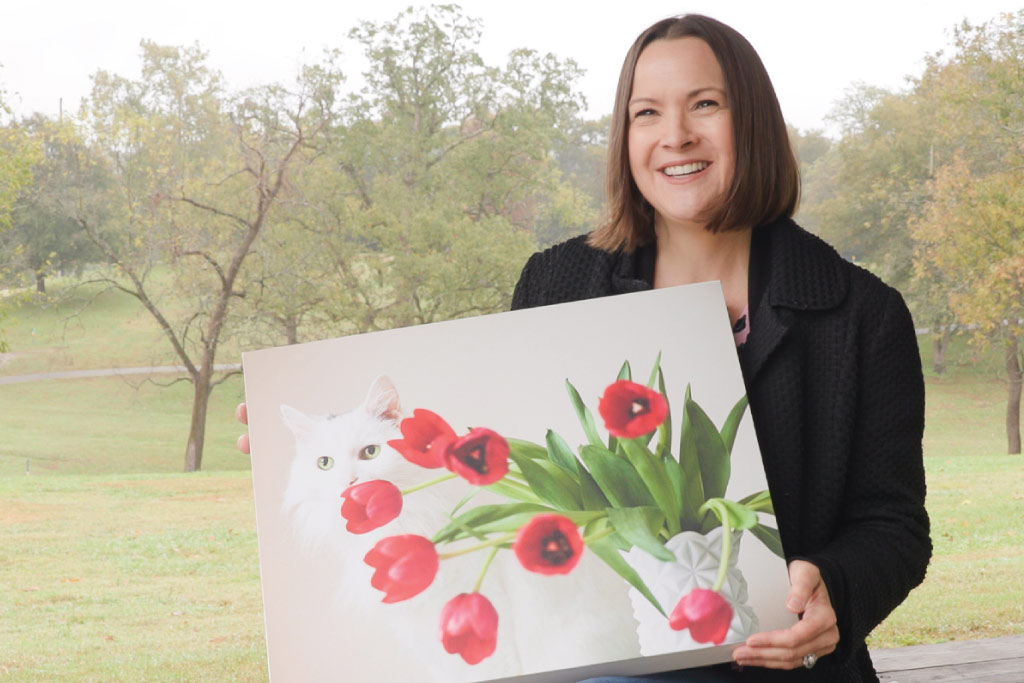 TO THE RESCUE
During a point in her life when she was looking for purpose, Angela volunteered to take photos of cats at a rescue shelter.
"The organization was really struggling to promote the adoption of their cats. They didn't really have good pictures, so I thought I could help them out. They just needed a second chance and a new start."
Angela says she was moved to do the work by her own cats.
"They were my children for so long and I photographed them a lot. They were the inspiration. I realized just how much I loved photographing them."
If she has one regret, it is that she didn't start volunteering earlier in life. "I think people would be amazed [at the joy you receive from volunteering]. If you find a subject that you are passionate about, you get so much more back in return than what you give. There really is a wonderful sense of purpose and it's such a great way to give back to the community."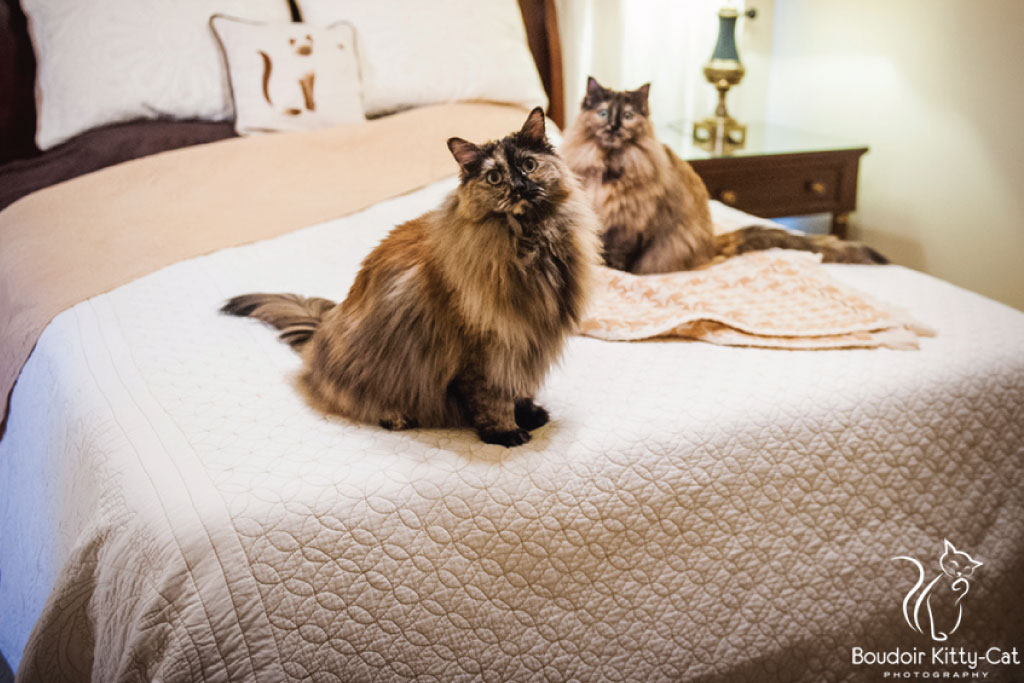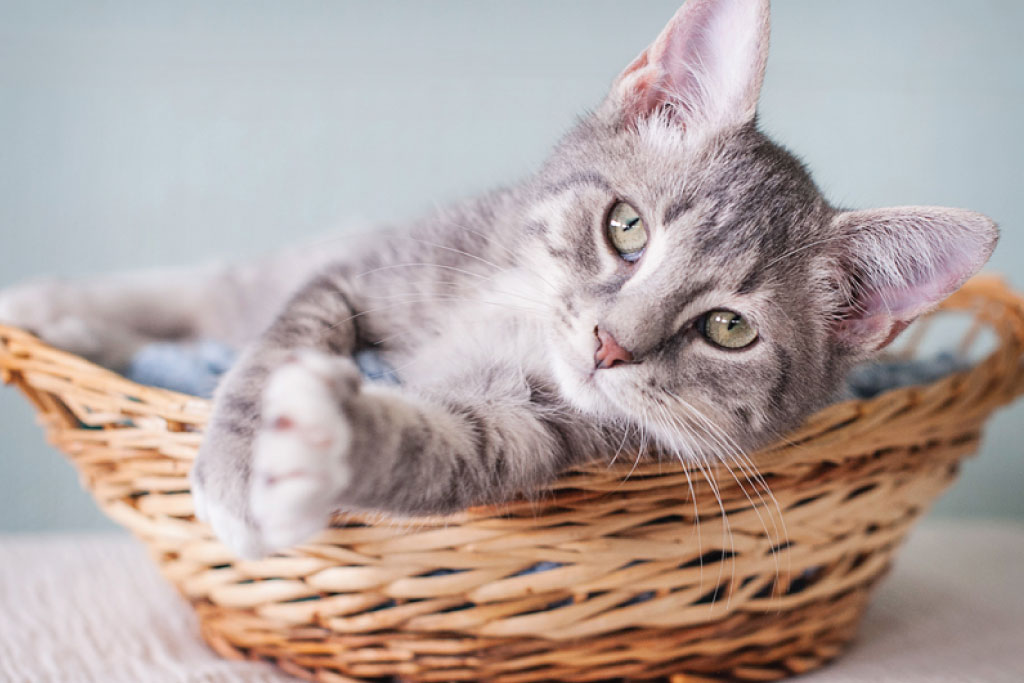 A CAT-CHY NAME
While snapping candid photos of one of her own cats, Sheba, Angela got the idea for the name for a cat-centric photo business.
"She was just such a beautiful cat and I joked to my boyfriend at the time that 'I just did her boudoir session.' At the time, boudoir photography had become a thing with people. Sheba had this regal walk and she had this thing for shoes. She would rest on them, and it was just really funny and quirky. So that's where the name Boudoir Kitty-Cat came from."
In hindsight, Angela says she worried that people might think the name was off-color. "Because it's not, it's cat photography, nothing beyond that. I just thought it was funny. Cats love cozy spots and they love pillows and things like that. And so, it just seemed like a natural fit."
Angela also knew that the name would help her differentiate her business by letting potential clients know that she was all about cats.
"When it came to rescues in the area, the attention was really focused on dogs. And cats were just sort of forgotten. And even with pet photography, it's largely of dogs. And
I just made this decision that I wanted to just focus on cats. I speak 'cat' and I felt like I was the perfect person to fill that need.
"And after photographing weddings, photographing cats was easy for me. We always used to joke that shooting weddings was like herding cats. And honestly, I think herding cats is easier sometimes."
We always used to joke that shooting weddings was like herding cats. And honestly, I think herding cats is easier sometimes.
KITTY CLOSE-UP
Catering to cats comes with its own set of challenges. It's not as if you can take a cat to the park to capture candid photos, so Angela brings her equipment to the cat's lair.
"I photograph them in their environment where they feel most comfortable. They are with their favorite things. It helps set the session up for success. Because the last thing I want is for the cat to feel like they're going to the vet."
To Angela, cats are not merely pets; they are cherished members of the family. "They're like children," she asserts. "Just as people feel that affection towards their dogs, people who are cat lovers feel the same."
Cats are the second most popular pet in the U.S. – behind dogs and slightly ahead of fish – perhaps due to multiple-cat households. The American Humane Society found about 46% of cat-owning households have two or more cats. Angela says that's not surprising. "I think that's probably because if you love cats, it's kind of like potato chips; one is just not enough."
Angela's love for cats has been eclipsed by the birth of her first child. Having her daughter later in life led her to step back from her photography business for the time being.
"I'll always be a photographer. It's in my blood, but I reached the point where I realized I need to prioritize my child. I've been with her full time and documenting her life as obsessively as I've documented cats."
ANGELA'S TIPS FOR CAT PHOTOGRAPHY
Look for an area with appealing light.
Do what you can to entice kitty to the area by placing a blanket to make them want to rest in the spot. You may use cat toys or treats to entice a cat to an area as well.
Get down to (or below) the level of the cat.
Get the cat to look at you. Cat eyes are so beautiful and show their personality and soul. Gently using a cat toy works well.
Timing is everything. Know how to access the energy of a cat. If you want quiet relaxed photos, wait for the time when kitty is resting or about to nap. If you want playful energized photos, photograph the kitty when in that mode.
Have fun and snap away.