Stepping Out of the Darkness: Part 1
Stepping Out of the Darkness is a three-part series on mental health in medicine, in education, and in communities. As mental and behavioral health is a rising concern among University of North Dakota students, staff and alumni, we are bringing to light stories and resources for more informed conversations and understanding.
A deeper look at the struggles faced by healthcare professionals, and those who have helped to lighten the burden.
Finally able to begin their life after medical training, the Maleks settled in Detroit Lakes, Minnesota. Mat, '11, '15, a graduate from the UND's School of Medicine & Health Sciences, had signed on at Sanford Health – his first job out of residency. His wife Danielle, a 2010 graduate from UND's elementary education program, stayed home to take care of their three children.
But on September 6, 2020, the life they had worked so hard to build pivoted dramatically.
"We had dinner and played games that night with the kids," Danielle said. "Right after we put them to bed Mat sat down on the couch with me and said, 'I want to talk about it.'"
Serious conversations weren't uncommon for Dr. Malek; discussing terminal illnesses and life-altering procedures with patients and colleagues happened regularly. But that night, the young surgeon wanted to tell his wife about his own trauma he endured as a child.
"He struggled to get it out and I just kept saying, 'If you're not ready, you have time. We don't need to do this right now,'" Danielle recalled. Mat went into detail about his past and disclosed some secondary trauma from residency training. Though Danielle pleaded he get help, Mat was adamant they stay silent – he didn't want anyone to know about his struggles.
"He just kept insisting that he'd lose his job and that I didn't get it. And then he walked to the bedroom and locked the door."
That night, Mat ended his life.
WHERE THE STRUGGLE BEGINS
As healthcare workers take on a "patient first" mentality when they sign up for the front lines, their own physical well-being, relationships and mental health can suffer.
A review of research conducted over the decade prior to 2018 reported that doctors die by suicide at a rate that is more than double that of the general population, reaching up to 400 suicides per year.
The struggles they face have been compounded by COVID-19. A recent survey conducted by the Washington Post-Kaiser Family Foundation found that 62% of America's frontline healthcare workers (those with direct contact with patients or their bodily fluids, including nurses, therapists, lab technicians, doctors, etc.) say the pandemic has had a negative effect on their mental health. Over half of those polled said they feel burned out in their work.
"Being a care provider is an occupational hazard," said Dr. Andrew McLean, M.D., M.P.H. who received his undergrad degree ('80) and medical degree ('87) from UND and is chair of the Department of Psychiatry and Behavioral Science. "You will hear terms such as secondary trauma, vicarious trauma and compassion fatigue. These essentially refer to the potential cost of empathic caring for others, which can result in PTSD-type experiences, a sense of loss of self or a feeling of hopelessness."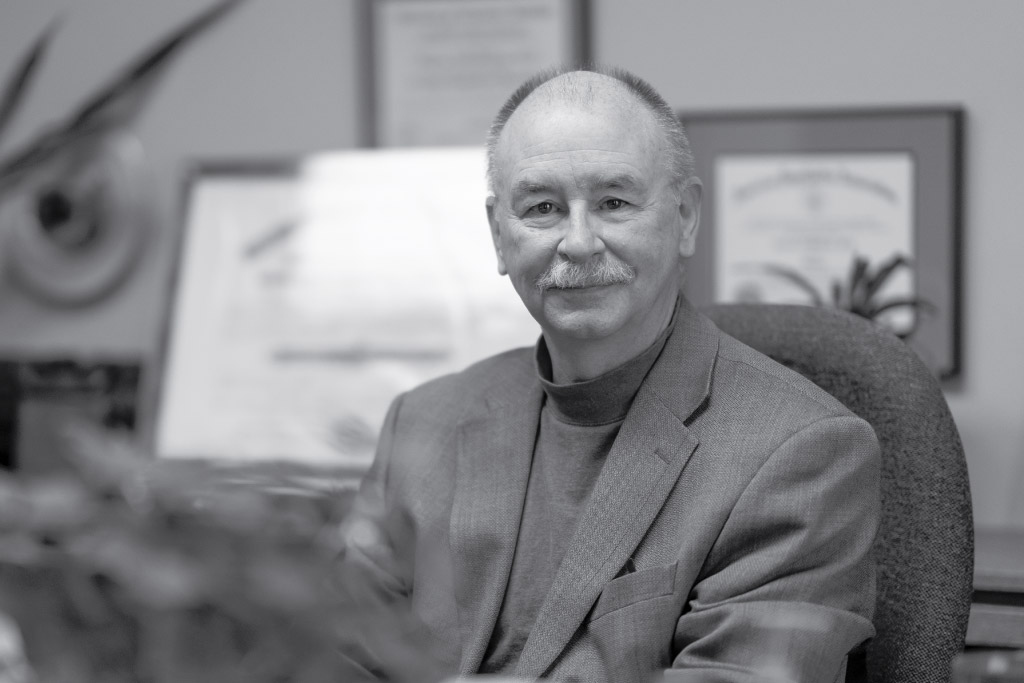 While Dr. McLean teaches medical students and residents how to treat mental and behavioral health conditions, he also teaches them the importance of their own mental health. In 2016, he hired Michelle Montgomery, '95, '13, '14, to assist in this area. Michelle, a licensed clinical social worker, serves as a wellness advocate for all SMHS faculty and students pursuing their medical degrees or anyone enrolled in the school's eight other health sciences programs.
For many healthcare providers, the pressures start at school. This year especially, adapting to virtual learning on top of the normal requirements has brought new challenges. Add a completely new curriculum that was launched in Fall 2020 for medical students and this year has been enough to make even the most dedicated question their choice of career.
"You have to be a very accomplished person to get into medical school," Michelle explained. "To see them totally doubt themselves is hard. There has usually always been some internal struggle, but they don't feel like they could admit it because that shows weakness."
This year another individual was hired to complement Michelle's work. Dr. Melissa Naslund serves as the wellness advocate for medical students in the western half of the state.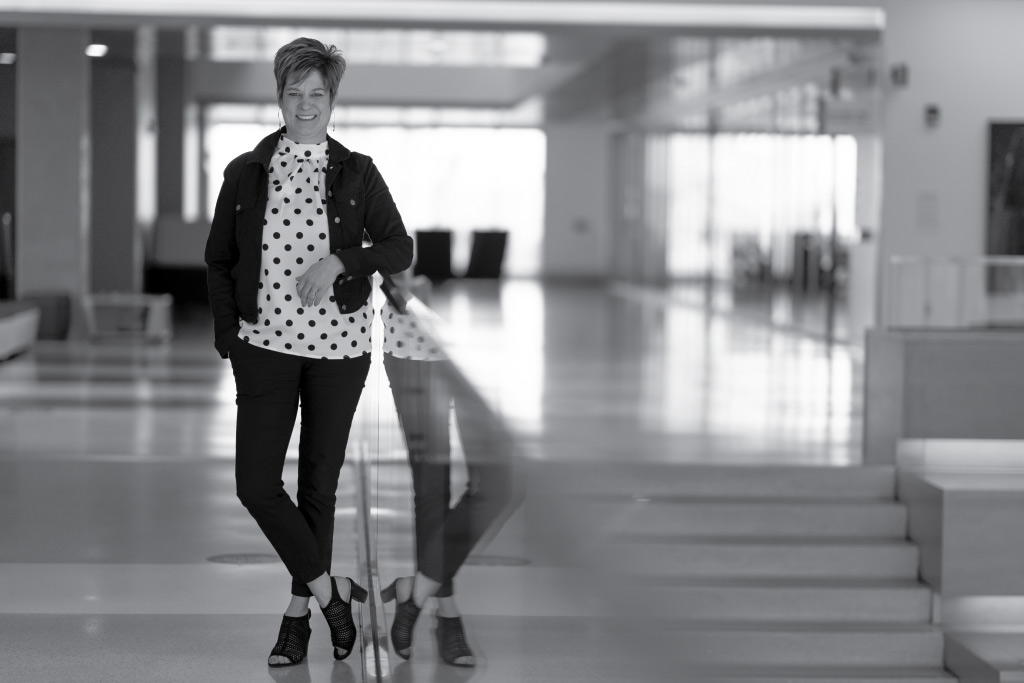 MIND OVER MEDICINE
Knowing the hardships students faced coming into the 2020-21 school year, UND issued an Interactive Screening Program, a survey taken by incoming freshmen and first-year medical students to assess their mental and emotional health. The results showed a higher-than-average number of mental health concerns. In response, Michelle, along with the Center for Rural Health's Dr. Jacque Gray, coordinated Mental Health First Aid training for SMHS faculty and students that teaches how to identify and help people with mental health or substance use disorders.
"The nice thing about having students and faculty trained is then students [who want to speak with someone] have a choice of going to a peer or someone further removed from them," Michelle said.
Mental health is also addressed in seven of the eight units for first-year medical students including subjects such as emotional intelligence, building resilience and suicidal ideation. Faculty are invited to participate in panels to share their own mental health battles and triumphs. Past sessions have featured former department chair Dr. Julie Blehm, '79, '81, and psychiatry residency program director Dr. Robert Olson, '85, who both lost loved ones to suicide and are champions for physician mental wellbeing.
"We say, 'It's not if you're going to struggle, it's when you're going to struggle.' It's not to scare them, it's to equip them with the language to have conversations," Michelle said.
We say, 'It's not if you're going to struggle, it's when you're going to struggle.' It's not to scare them, it's to equip them with the language to have conversations.Michelle Montgomery,

'95, '13, '14
She made it clear that a student's struggle is oftentimes a loved one's struggle. With that in mind, Michelle created the Significant Other Support Group as a safe space for those who share the burden. Widow Danielle Malek understands this well. She married Mat right before he started medical school and cared for their newborn while Mat was in his third-year rotations across North Dakota.
"He was gone a lot, and then in residency there is a cap of 80 hours of work a week, but residents don't always stick to that," she recalled. "So as a spouse, you're often alone."
Efforts like Michelle's are just a fraction of what's being done around UND to help students healthily cope with an ever-changing learning climate.
ON THE FRONT LINES: CNPD GETS CREATIVE TO REDUCE STUDENT ANXIETY
STIGMA AT THE CORE
While the white coat donned by healthcare providers symbolizes purity in knowledge, skill and purpose of medicine, it also bestows a great responsibility. With that responsibility comes great pressure, a pressure that can wear thin the coping skills of medical professionals. A statewide resource called the North Dakota Professional Health Program (PHP) can assist. The nonprofit provides monitoring and support for students and healthcare professionals with substance use or mental health disorders.
Since 2018, PHP has contracted with SMHS and has helped a handful of medical and physician assistant students every year. From the time someone is accepted into the program, services can be utilized up to five years.
"This isn't a four-week Band-Aid," explained PHP's Medical Director Dr. Melissa Henke, '02. "It's a journey where they learn how to live their life differently, learn to make different choices and learn to connect with other professionals."
While the perception that getting help for mental health is a sign of weakness or that addiction is a choice or simply a bad habit are still common misconceptions, stigma is often felt more strongly by the individual who is struggling.
"Stigma is at the core of what keeps all of us from seeking help, especially when you get into the medical profession," Dr. Henke said. "Now, if I'm diagnosed with diabetes, I'm not going to try to manage that myself, but often when we're dealing with psychology and psychiatry, we think some self-help books will do it. It's much more complicated than that."
Stigma is at the core of what keeps all of us from seeking help, especially when you get into the medical profession.

Dr. Melissa Henke, '02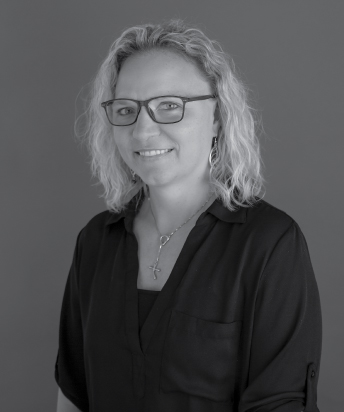 CHANGING THE LANGUAGE
Danielle shared that her husband's fear about potentially compromising his career stemmed from the medical license application, an annual process for doctors to practice medicine in the state they serve.
Dr. Henke attests that there is a question on the licensure application that asks if the applicant has been diagnosed with a mental illness or substance use disorder. "If you have a diagnosis, you have to check yes," she said. "You are basically disclosing to the board your mental health struggle and opening the door to their investigation and determination if you're safe to practice medicine. So, a lot of physicians wouldn't seek help simply so they can check 'no' on that question."
In step with a national movement to destigmatize mental health conditions, the North Dakota Board of Medicine implemented the Safe Haven Clause. The clause allows applicants actively seeking help from organizations like PHP for mental and substance use disorders, and who are no longer impaired, to check "no" on the diagnosis question. After hearing about Dr. Malek's death, the Board went a step further and modified the question again to provide more clarity.
"Dr. Malek was one of the reasons we wanted to change that language and make sure that we were as up to date as possible. We want providers to understand that [behavioral health disorders] are illnesses like any other," Dr. Henke said, adding a plea to physicians: "Get the help that you need, whatever that may be, and then take care of your patients."
TAKING THE FIRST STEP

The six weeks that followed Mat's death drove Danielle into her own darkness: "I didn't get off the couch, I didn't eat. And then I made the decision to live the life that he didn't."
A move to Danielle's hometown of Devils Lake, N.D., has given the Maleks a new beginning. Their country home sits across the lake from her parents' and has a big yard with a playground where Annistyn is learning to slide all by herself, a tree fort that takes Beckett's imagination to a new level, and a garden plot that Parker is eager to plant.
"This isn't something we'll ever get over. It will always be with us. They are missing one parent, so I feel like they need one who's here to help keep life as normal as possible," Danielle said.
She hopes to advocate for changes in the healthcare field so that young surgeons like Dr. Malek have time, encouragement and structure in place to work through their stress in healthy ways. Danielle views every action, like sharing her story and walking for mental health awareness, as a small step in the right direction.
And every courageous step out of the darkness that she and others take is a step toward creating the change needed to lighten the weight of the white coat.
I didn't get off the couch, I didn't eat. And then I made the decision to live the life that he didn't.