Locker serves as a token of a mother's support for first-year medical student.
Caroline Auza knew her son was in good hands when he left Tucson, Arizona, to attend UND. Still, letting him go wasn't easy.
"Hayden is my firstborn. And when I sent him to North Dakota, my heart was broken," said Caroline. "But the minute he got there he was embraced by the North Dakota family. That's why we say that there's no nicer people than people from North Dakota."
Hayden, known for his composure and grit on the field, was recruited to play catcher for UND's baseball team by head coach at the time, Jeff Dodson. Just a year after signing on, the program was cut, leaving Hayden at a crossroads: Transfer to another D1 school offering a tempting scholarship or stay at UND and get serious about pre-med.
"I kind of fell in love with being in Grand Forks and the people," said Hayden. "So I decided to stick with [UND] and pursue going to med school here. And I'm glad that it all worked out."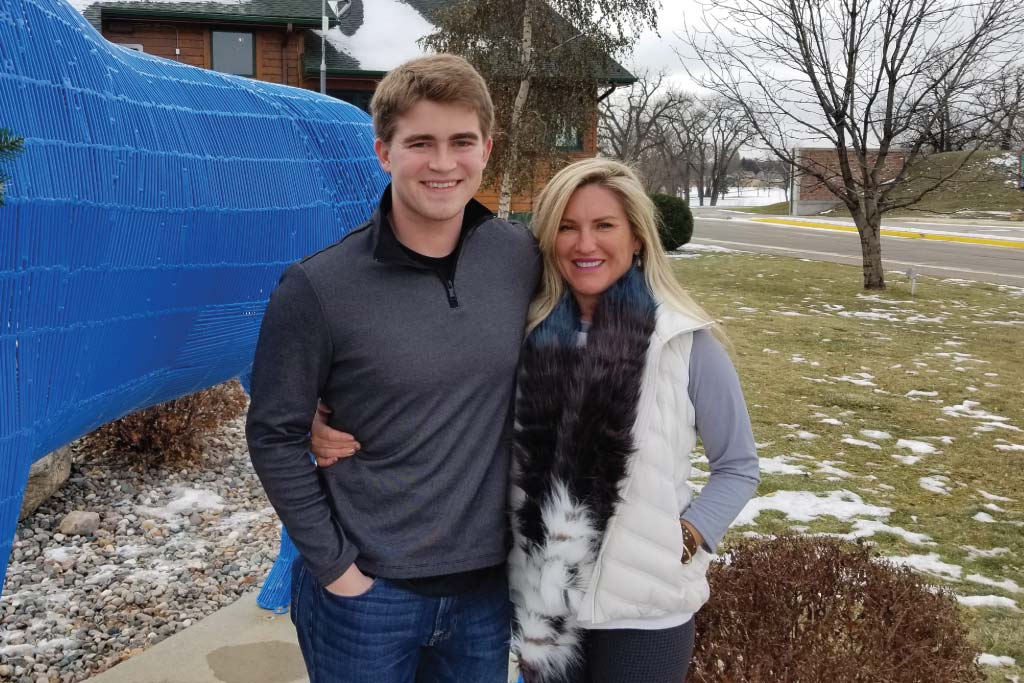 One key influencer in his decision to trade in his cleats for a stethoscope was Anatomy Lab. As a teacher's assistant and chief dissector for the College of Arts & Sciences' Anatomy department, he was trusted with special assignments by the lab's directors.
"I was able to do a full knee replacement on one of the cadavers, which is crazy! I don't know of many other students who have had opportunities to do those sorts of things as a junior in undergrad," said Hayden.
He was interviewed and accepted into other medical schools, but the UND School of Medicine & Health Sciences (SMHS) was his first choice – the simulation center, rural health track, and interprofessional learning were just a few of the many draws.
While far from home, Hayden was taken underwing by several UND staff and faculty who helped him along the way, including his former baseball coach Jeff Dodson, now Director of Development for SMHS. Earlier this year, Jeff spearheaded the launch of the SMHS Locker Campaign to create an opportunity for SMHS alumni, parents of students and community members to sponsor a locker for $5,000.
Funds from this campaign will go toward the Medical School Dean's Endowment, which provides scholarships for students of every discipline at SMHS. The school's multiple learning communities house the 800 lockers that have been utilized by students since the building's opening in 2016.
Caroline says it was a no-brainer for her to commit to a locker when Jeff Dodson reached out to gauge her interest.
"Of course I said yes," recalled Caroline. "I didn't have to think about it. I mean, Jeff has done so much for my family and for Hayden. And Hayden is a part of the UND Medical School family now, so there's no reason not for me to say yes."
The lockers offer a safe space for students to store personal belongings, books, food, medical equipment and attire. They will soon be adorned with plaques displaying the sponsor's name or a name of their choice. Caroline plans on adding Hayden's.
"He is working so hard, I figured that it's a nice little token for him to just let him know that he's doing a great job, that I'm really proud of him and think that he's a wonderful young man," explained Caroline. "Plus, it provides a legacy so students could aspire to want to give back in this way once they graduate."
Often referred to as a "home away from home" by students, the learning communities are where they spend hundreds of hours collaborating, studying, eating and even napping when exhaustion sets in. Because of the pandemic, Hayden's classes were moved to online platforms, so he hasn't utilized the learning communities or lockers yet, "but I can see how, post-COVID, they would be pretty useful between all the programs," said Hayden. "There's going to be late nights; there's going to be early mornings, and so it's going to be nice to have those spaces available for us to use."
With an increasingly demanding schedule and a new North Dakota family, he still makes time to call his mother: "She's been an all-star giving me all the opportunities I could ever ask for growing up. Even now, she makes time to come up from Arizona to visit me here. She knows it's a stressful part of my life, and so she's doing everything she can to help me whenever she can."
SUPPORT THE FUTURE OF HEALTHCARE AT UND
If you or someone you love has benefitted from an SMHS education, consider sponsoring a locker to support students who are beginning their journey into healthcare.