Family and friends honor David Horne, a UND employee who made Aerospace courses accessible worldwide through distance education.
The behind-the-scenes employees of the University of North Dakota make it run on all cylinders. When one cylinder breaks down, they fix it before the problem has time to wreak havoc. They're on speed dial in every department, helping out with a nod and a "you bet," or "anytime."
They're our technicians whose expertise and equipment resolve crises and prevent so many more. They bring us to the next level, working on UND's technological advances that make us industry leaders. These unsung heroes' faithful work impacts the multitude but is often understood by only a few. When they're gone, the gaping hole left behind becomes obvious to all that it's not easy to fill.
IN MEMORY OF DAVID K. HORNE
David Horne, '85, '88, was one of these heroes. Known informally as "Jack of all trades," he held the official title of Interactive Systems Analyst for the Academic Support Services department at the John D. Odegard School of Aerospace Sciences. David helped create programs and solve technology problems for Aerospace students, instructors and supervisors alike.
On May 22, 2021, David's life ended unexpectedly from a heart attack.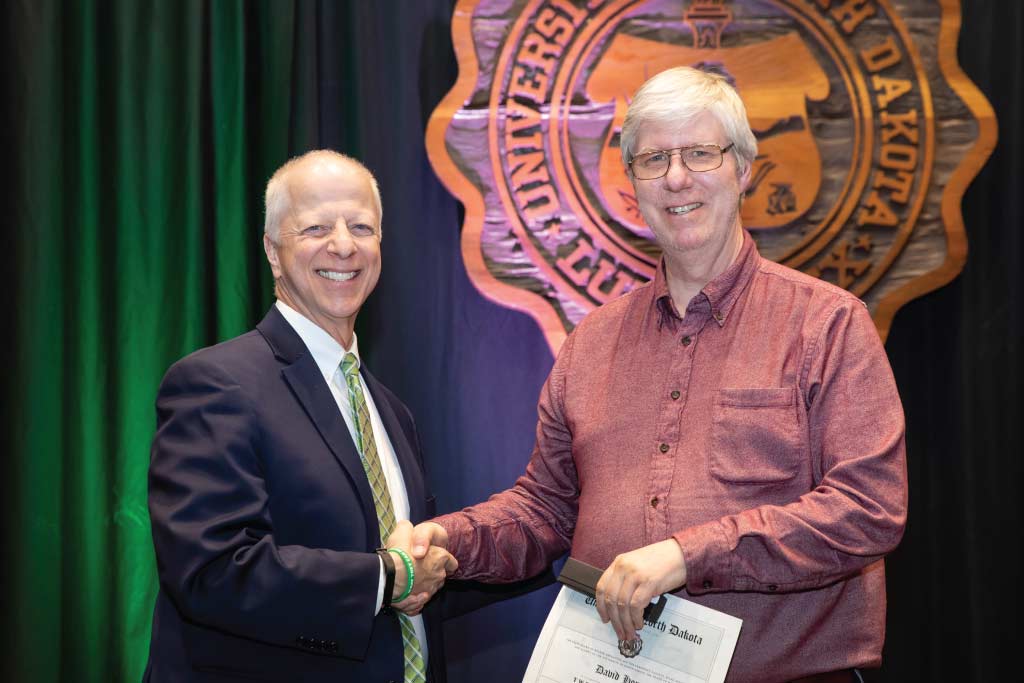 After getting over the shock, David's parents Robert (Bob) and Deanne Horne, along with David's wife Shelley, discussed how to best commemorate David's life and service to UND.
They established the David K. Horne Family Memorial Scholarship to benefit physics students.
"We look at it as a double impact," said Bob. "One, we want to strengthen UND and help it grow and educate more students and prepare them for the future. Second, it makes us feel good that, through David's memory, we are helping future students get their degree in physics and have an impact in society." Physics was David's first love – the focus of his undergraduate and master's degrees at UND.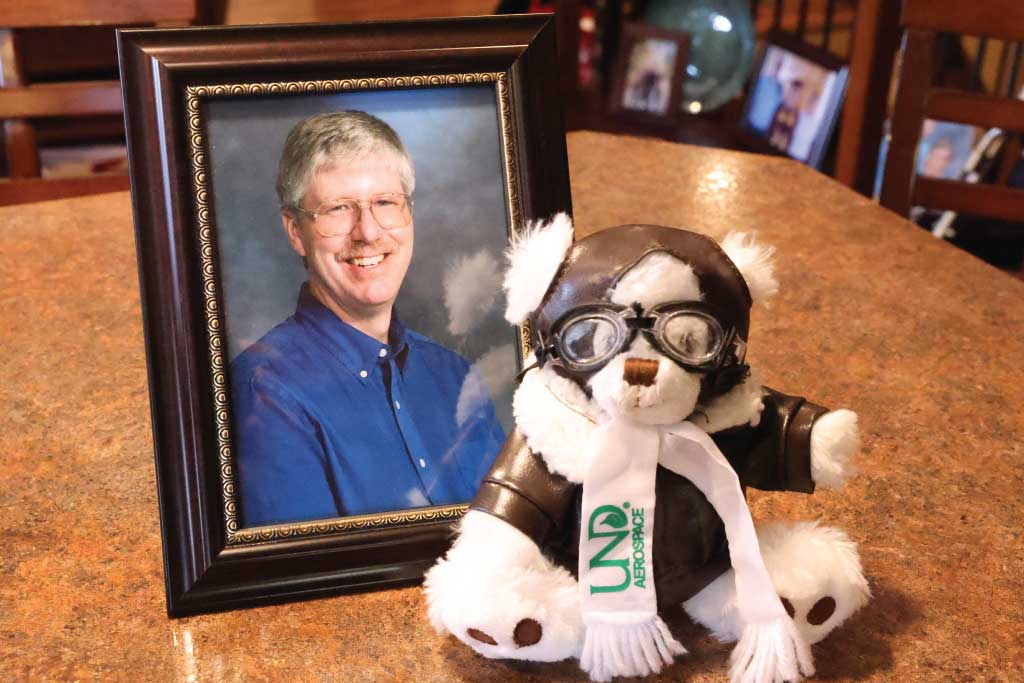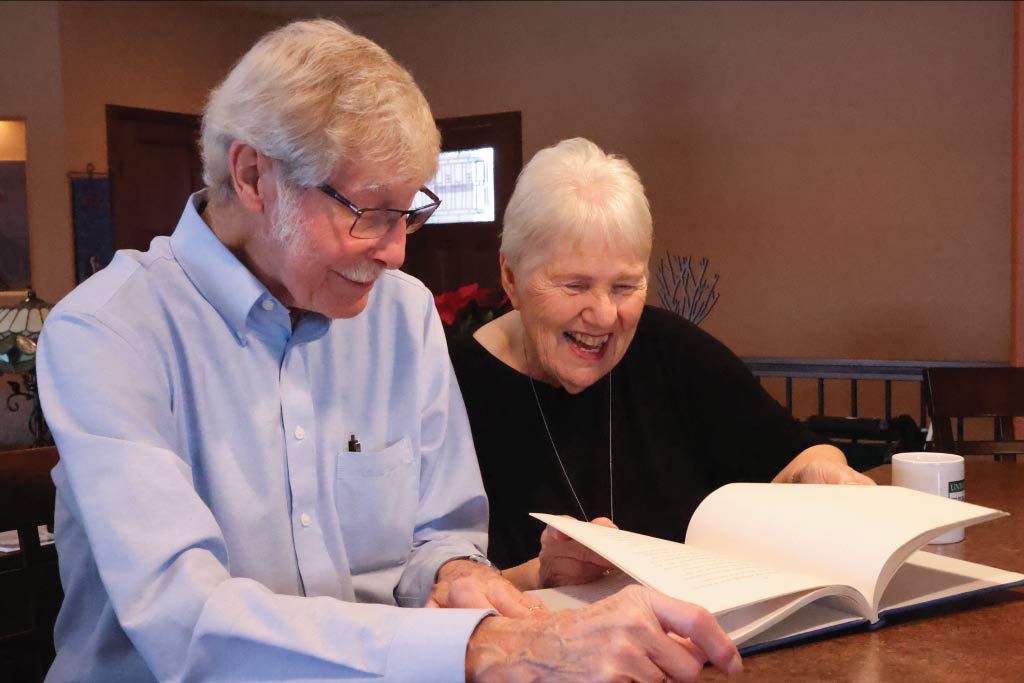 Shortly after graduating, he landed a job with the Odegard School when the Aerospace Network (ASN) was built. Through use of the multimedia production facility, David helped launch distance education courses through satellite broadcasting to a handful of universities.
"We were doing this long before any other school," said Robert Cary, '84, Audio/ Video Producer & Director and David's supervisor. "UND has always been a leader in distance education, and David had a hand in that."
When internet came on the scene, David uploaded classes online, spreading the School of Aerospace's influence from the region to the world and putting the school on the map in terms of distance learning.
FOR THE LOVE OF THE JOB
In 1982, David married his high school sweetheart Shelley (Kautzman) Horne, Ph.D., '85, '87, '94, They enjoyed settling into married life as students at UND. After Shelley started working in the Veterinary and Microbiological Sciences department at NDSU in Fargo, David began commuting to UND – which he would continue for the next 27 years. Often questioned about his decision to drive, he was quick to give assurance that the car ride was a time to think and decompress. To his family, friends and colleagues, it was apparent that the love of the job is what kept him on the road 160 miles a day – blizzard, rain or shine.
The School of Aerospace is still picking up the pieces following David's death. More than his professional expertise, it's his friendship that David's colleagues mourn the most.
"You don't go to work with someone five days a week for 20-some-odd-years and not become friends. David was a close friend to everyone at Aerospace whose paths he crossed," said Henry Borysewicz, '98, director of the College's Academic Support Services.
At David's funeral service, a former roommate of David's summarized him as "super scary smart." Henry agreed. "He was the guy that would take care of anything, fix anything for you. Even if he didn't know how to do it, he would say, 'Yes, we can do that.' And then he would figure it out," he said.
His brains were matched by his heart. David would lend a hand for anyone in need. His second cousin, Rachel (Lindemann) Bakken, '10, told a story at the funeral service. She was a freshman at UND who had just moved from Nevada. Although the two barely knew each other, Rachel called David in a panic about a roommate crisis. A few hours later, David showed up at her door to help move her out of the situation.
"I think I would have gone back to Nevada if he hadn't helped me," said Rachel, who graduated with her nursing degree four years later and now works at Essentia Health-Fargo.
We look at it as a double impact. One, we want to strengthen UND and help it grow ... Second, it makes us feel good that, through David's memory, we are helping future students get their degree in physics and have an impact in society.

Bob Horne, '64
A RICH FAMILY TRADITION
David's commitment to UND was passed on by his parents. His mother Deanne, '75, a first-generation college student, earned her master's degree in special education from UND. His father Bob, '64, earned his master's in history from UND and his doctorate from the University of Montana.
"We always thought that UND was the top of the education pyramid in North Dakota, and we wanted to be part of that," said Bob. Between David's parents, aunts/uncles, cousins, niece and two brothers, the Hornes have a rich family tradition at UND. Together, 13 members of the Horne family have earned 19 degrees from UND.
Bob served in the North Dakota Senate and helped sponsor the original bill that would change the future of philanthropy in North Dakota. In 2007, the North Dakota Income Tax Credit bill passed, which eventually allowed up to a 40% tax credit for a minimum $5,000 donation to a qualified North Dakota endowment.
That was one of Bob's proudest achievements serving in the state legislature. Since then, he and Deanne have used the benefit many times in their philanthropy to nonprofits and churches throughout the state, including the endowment they established at UND in honor of David.
Through this endowment, the Hornes are carrying on David's memory by helping produce more "super scary smart" professionals who will use physics to solve the world's problems, just as David did.