People may think UND only sends hockey players to the NHL, but the University does more than that.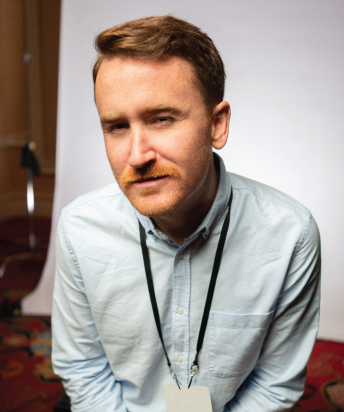 Take Peter Bottini, '15, for example. The UND alum is now social media marketing manager for the National Hockey League after honing his professional communication skills at UND.
Bottini was the keynote speaker at the 2022 UND Appreciation Communication Day.
Designed to give current and prospective students a better understanding of the Communication major, the event featured panel discussions, student-project showcases and other demonstrations on the value of a UND Communication degree.
Peter made that point by describing his journey to his current position and how UND played a major role. "I was never a top-tier student, but I kept going and kept my head above water at least," he said.
"But I also surrounded myself with internship opportunities, which kept me meeting the right people. And I took chances."
Bottini's most influential experience occurred while working as the digital media intern within UND Athletics. He and a fellow intern brought up the idea of a behind-the-scenes, all-access show for the hockey team. The show? "Through These Doors."
"For the past 11 seasons, UND hockey fans have been treated to unmatched access to the best college hockey program in the country," said Bottini. "Eleven seasons is insane to me. I worked on four, which means that for seven more years, interns, students and staff picked up the reins of that show and kept it going to inspire hockey fans all around the country and North America."
On his journey to the NHL, Bottini also was an intern for the Minnesota Twins and worked for the AHL's Springfield Thunderbirds.