College of Nursing & Professional Disciplines gets creative to reduce student anxiety.
Across the nation, Generation Z – our current and incoming college students and recent graduates – are reporting higher levels of stress than any previous generation.
Dr. Stephanie Christian, '85, '94, '21, is the Chair of the College of Nursing and Professional Discipline's (CNPD) Undergraduate Nursing Department. "In all the years I've been teaching, I can see higher levels of anxiety in this generation," she said, adding that digital fluency is affecting their comfort level with interpersonal interactions. The undergraduate nursing program builds on the students' strengths in this area while helping them develop strong face-to-face communication skills necessary for daily interactions with colleagues and patients.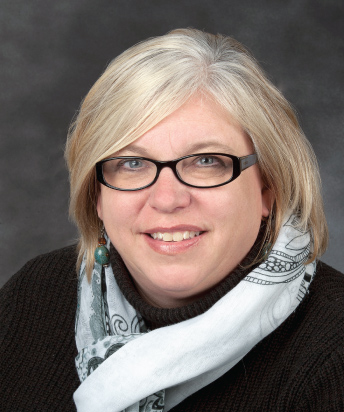 After nearly three months of virtual learning, nursing students were able to restart in-person clinicals last fall, but with reduced hours due to COVID-19. Resuming clinical training has helped, but Dr. Christian knows the limited experience is still not ideal. "Their knowledge is there, but their confidence may not be, so they just need some time to put that knowledge into practice." She and her team remind their clinical partners that recent nursing graduates may need extra support starting out.
In all the years I've been teaching, I can see higher levels of anxiety in this generation.
CNPD sought unconventional ways this past year to help their students get hands-on clinical experience. Nursing students participated in COVID-19 testing and, working with Grand Forks Public Health, administered COVID-19 vaccines. Students also partnered with Grand Forks schools, New American Services, and the UND Wellness Center to help with COVID-19 related projects.
For the additional mental health struggles expressed by their students, CNPD connects them to resources on campus like the University Counseling Center. Dr. Christian is also collaborating with CNPD Chester Fritz Distinguished Professor Thomasine Heitkamp, '75, and Clinical Professor Dr. Maridee Shogren, '91, on the Mountain Plains Mental Health Technology Transfer Center (MHTTC) to introduce nursing students to local and national resources for their own mental health and that of their patients.
Prior to COVID-19, the burnout rate among U.S. registered nurses ranged from 35% to 45%. During the pandemic, the widespread cuts in jobs have added to the already full patient load of working nurses. The additional stress has led to more fatigue and burnout, causing nurses to seek different positions or resign.
Aware of the ongoing challenges of the field, Dr. Christian says that her nursing students are eager to put their education to practice. "Our students are excited to go out and be on the front lines as practicing nurses," Dr. Christian said. "Changes applied this year required students to be adaptable, flexible and resilient, and have prepared them to be an integral part of the ever-changing health environment."