With its founder's wisdom as a guiding principle, UND's School of Aerospace Sciences is at the forefront of the rapidly growing UAS industry.
John D. Odegard didn't invent the concept of unmanned vehicles – that honor goes to famed inventor Nikola Tesla who filed an 1898 patent for a boat controlled by electromagnetic waves – but he did have a vision for the School of Aerospace Sciences at UND that allowed it to fold unmanned flight neatly into the curriculum of the nation's foremost aerospace school.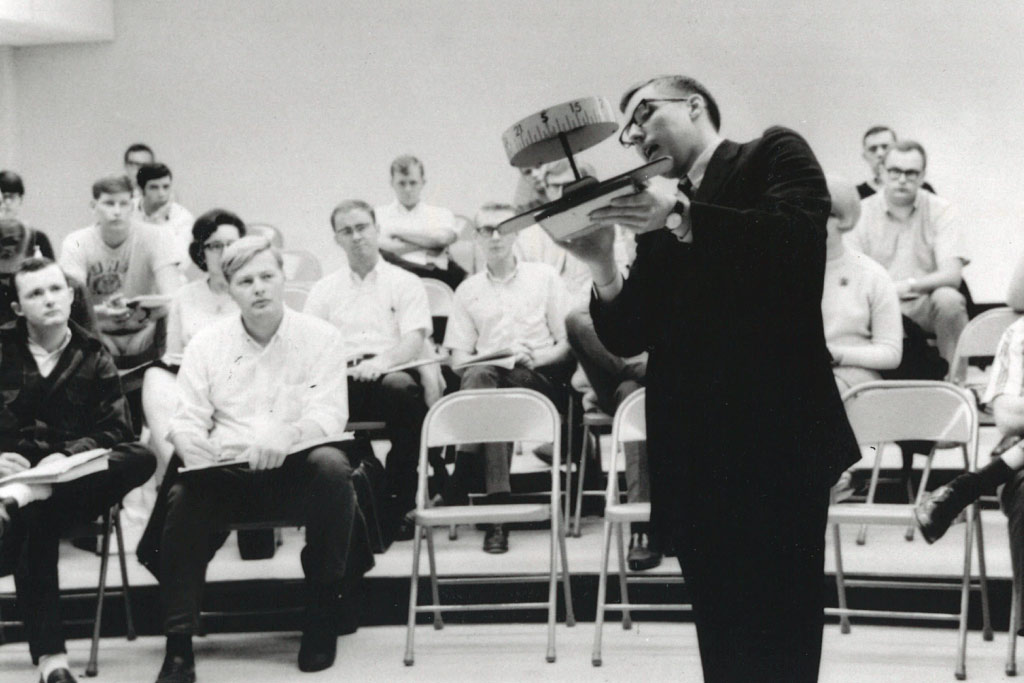 FIRST IN
Jim Higgins, '99, '05, a professor in the John D. Odegard School of Aerospace Sciences and a co-founder of Airtonomy, a company that develops software for analyzing data collected by autonomous unmanned systems, says back in the mid-2000s many people were skeptical of the future of unmanned aerial systems outside of military use.
"Honestly, I too was skeptical at the time," said Higgins. "I was thinking, 'I don't necessarily see this.' Boy, was I wrong! A lot of people were. But just having that
[UND] leadership and its first-in mentality [was important]."
In 2015, the New York Times named North Dakota the "Silicon Valley of Drones." If anything, the state – and in particular Grand Forks – has become an even stronger epicenter of the drone universe thanks to state, federal, university, and entrepreneurial innovation.
For example, UND was the only university invited to the UAV Technology USA Conference in Arlington, Virginia, in February. UND President Andrew Armacost chaired the event, which brought together representatives from all branches of the U.S. military services as well as British, Australian and Canadian Royal Air Forces.
Students currently seeking a UAS major
Students seeking UAS minors
Types of small UAS flown at UND
THE SPARK
Higgins' company is just one example of the myriad enterprises that are part of the ecosystem anchored on one end by UND's UAS program and on the other by Grand Forks Air Force Base (GFAFB) and the North Dakota Air National Guard.

Matt Dunlevy, '10, '20, '21, founder of drone/helicopter data services company SkySkopes, wrote his master's degree thesis on the history of Unmanned Aerial Systems. He says the tipping point for drone development in the state came when local leaders, including former dean Bruce Smith, convinced the Air Force to give GFAFB a Global Hawk mission as part of the 2005 Base Realignment and Closure Commission process.

"The Global Hawk mission sprang forth an entire ecosystem here," said Dunlevy. "The community got behind it and said, 'Let's play to our strengths.' Without that ecosystem, there is no SkySkopes."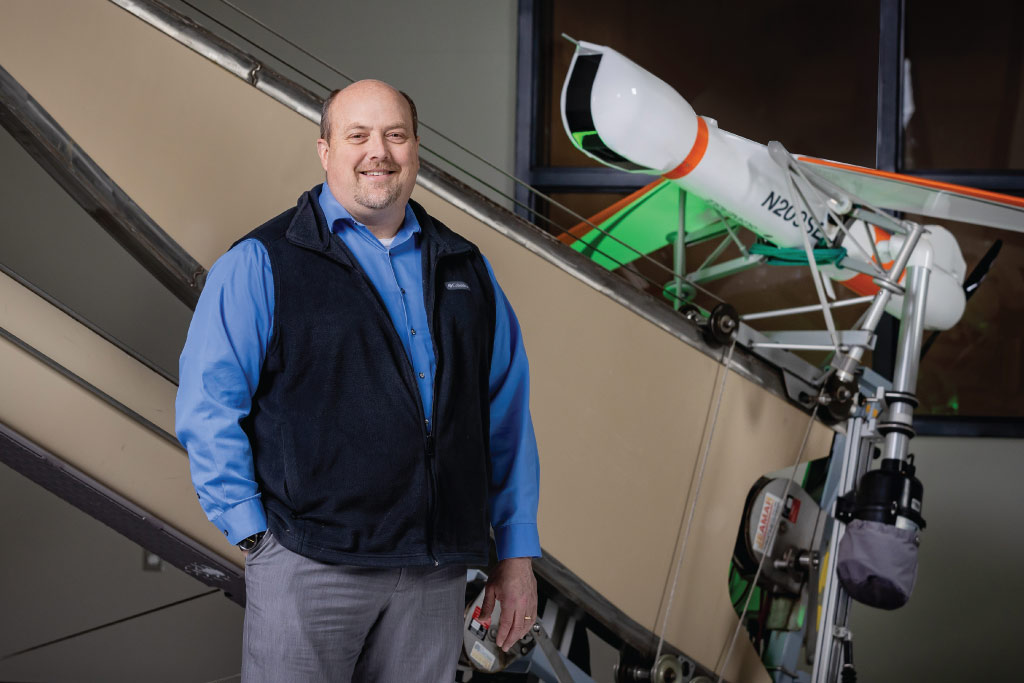 Everything that's happening with UAS and all the different ways it could go … it's really fun because it pulls people into aviation that never would have been pulled into aviation before.

Paul Snyder, '93, '06

Director of UND UAS program
GROWING AN INDUSTRY
"I'm so thankful to our state politicians, our governor, and our congressional delegation because everybody is on board to grow this industry [in North Dakota]," said Tommy Kenville, '88, cofounder of ISight Drone Services in Grand Forks. "If you count the air base, Grand Sky (a UAS-specific business and aviation park located near GFAFB), and at the other end, the smaller companies like ours, we probably have a couple thousand jobs that are drone-related. You get to a big number pretty fast – and 10 years ago, it was zero."
ISight Drone Services formed from a merger of two small companies in 2016 that together had four employees (three of them being the founders). Now, the company has 30 workers; 26 are UND graduates.
"One of the big keys for our own company is that UND had the vision early on to have a UAS major," said Kenville. "Obviously, they've always had a great aviation program, but for them to have the vision to start a drone program … it's huge. Our company would not be what it is today if it wasn't for that program."
ISight focuses on energy, agriculture, and industrial work ("If it's dirty, dark or dangerous, use a drone," says Kenville.).
Ryan Moriearty, assistant chief pilot at ISight, was one of the earliest employees of the company when he started shortly after graduating from UND in 2016. That same year, the Federal Aviation Administration (FAA) put in place a regulatory framework known as Part 107 for widespread deployment of commercial drones. Prior
to 107, commercial usage of drones was banned in the U.S. outside of narrowly allowed use by law enforcement agencies and on some movie and television production sets.
That meant for the first eight years of the UND program, actually flying a drone could not be part of the curriculum. Ryan says he and his classmates got flying time by using their own drones on their own time. Given those regulatory restrictions, he wasn't entirely sure what kind of job he'd be able to find in the industry.
"It was tough," he said. "There were a lot of promises that it was coming. Right as I was getting out of school, the early version of the regulations came out. It was affirmation that it was happening."
ISight UAS operator Logan Couture, '21, was on track for a commercial pilot degree when COVID made job prospects dicey. He added a UAS major and hasn't looked back. "I realized, holy smokes, this is kind of sweet. This is way better than flying for an airline."
Now, Ryan, Logan, and their fellow ISight pilots spend their days flying drones all over the country and world while Kenville looks to hire more of their fellow UND alumni.
"We're going to grow soon to about 40 people," he said. "My guess is out of the next 10 hires, eight will be from UND."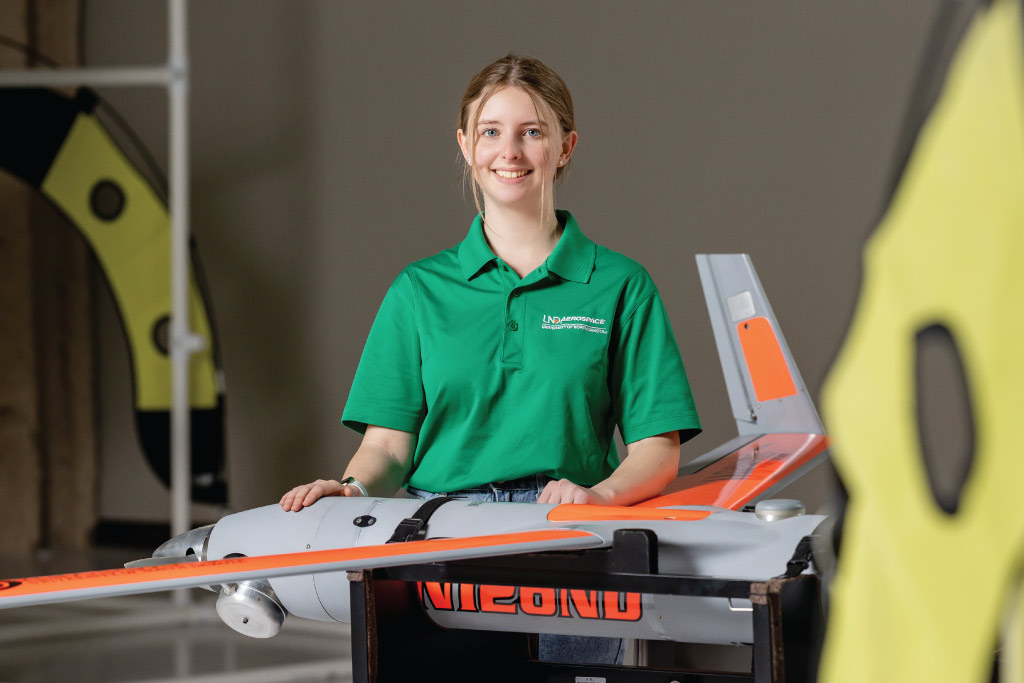 EXCITING TIMES
Emmelinne Miller hopes to find work in the commercial drone industry when she graduates in May. She is double majoring in Air Traffic Management and Unmanned Aircraft Systems. She is one of 215 students majoring in the UAS program with another 15 seeking minors.
Growing up in St. Louis, Emmelinne flew drones as a hobby and is excited that something she used to do for fun will lead to a career.
"I've gotten to fly a lot of different UAS," said Emmelinne of the UND program.
"I've had classes on the theory behind mission planning, uses of drones, and data collection and processing the information you get with a drone."
Director of UAS Program Paul Snyder, '93, '06, is envious of the students starting out in the industry today. He says he wishes he was 21 again so he could experience
it himself.

"Everything that's happening with UAS and all the different ways it could go … it's really fun because it pulls people into aviation that never would have been pulled into aviation before," he said.
Snyder says students of today will be a part of some amazing advancements, which could include extended operations (beyond visual line of sight), cargo delivery, unmanned flying taxis, and, someday, pilotless commercial flights.
Says Matt Dunlevy, "Drones will prove that they have a huge societal benefit. They are here to seriously increase the quality of life for even those who don't know anything about them."
The possibilities seem endless and Snyder says UND wants to remain nimble to meet not only the need for workers in the industry but lead in the way of research and development. There have already been several research projects involving collaboration with other departments on campus like computer science, biology, and engineering.
He sees a future where all the various disciplines in the School of Aerospace Sciences – commercial aviation, space studies, air traffic control, meteorology, and airport management – converge to integrate and advance the UAS industry.

"We are here to create that aviation professional; whatever that looks like."
UAS CAREERS: ALUMNI IN ACTION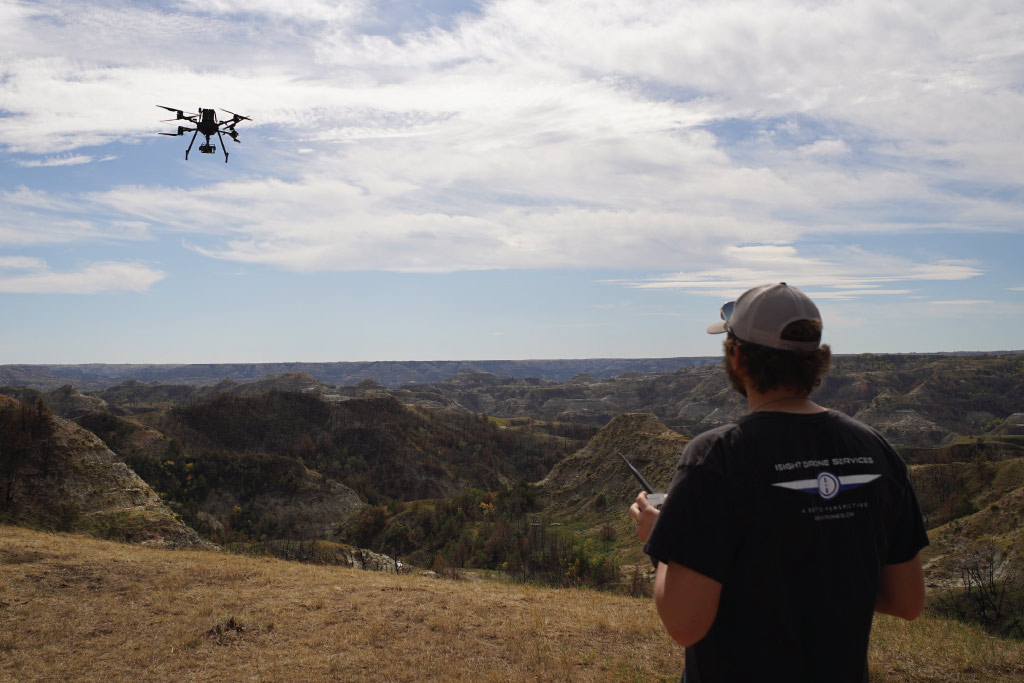 ISight Drone Services
Drone service provider specializing in aerial data delivery
Tommy Kenville, '88, founded the first private drone company in North Dakota in 2011. In 2016, he merged with another small drone provider to create the company known today as ISight Drone Services.
The company, based in Grand Forks and with offices in Watford City, Fargo, and Minneapolis, has flown drones for clients in 40 states and eight countries. ISight drones have been used to inspect wind blades for defects, do thermal imaging of roofs to look for energy loss, help make sure cellular towers are positioned correctly, and inspect power poles for wear and tear. They are also used extensively in western North Dakota's oil patch. Many of the company's UAS pilots are also manned commercial pilots so they can fly chase planes when a project requires one (when a drone has to fly beyond line of sight). Of the current 30 employees of the company, 26 are UND graduates.
"The thing I'm most proud of about building this company is keeping young talent in North Dakota," said Kenville. "Because every one of these kids would have left if there wouldn't have been an industry or a job. And now they travel the world, but live here."
Kenville believes in the UND program so strongly that his is the first drone company to create a scholarship in the UND UAS program.
"I'm proud of that because we're investing where the kids have come from to make us a good company."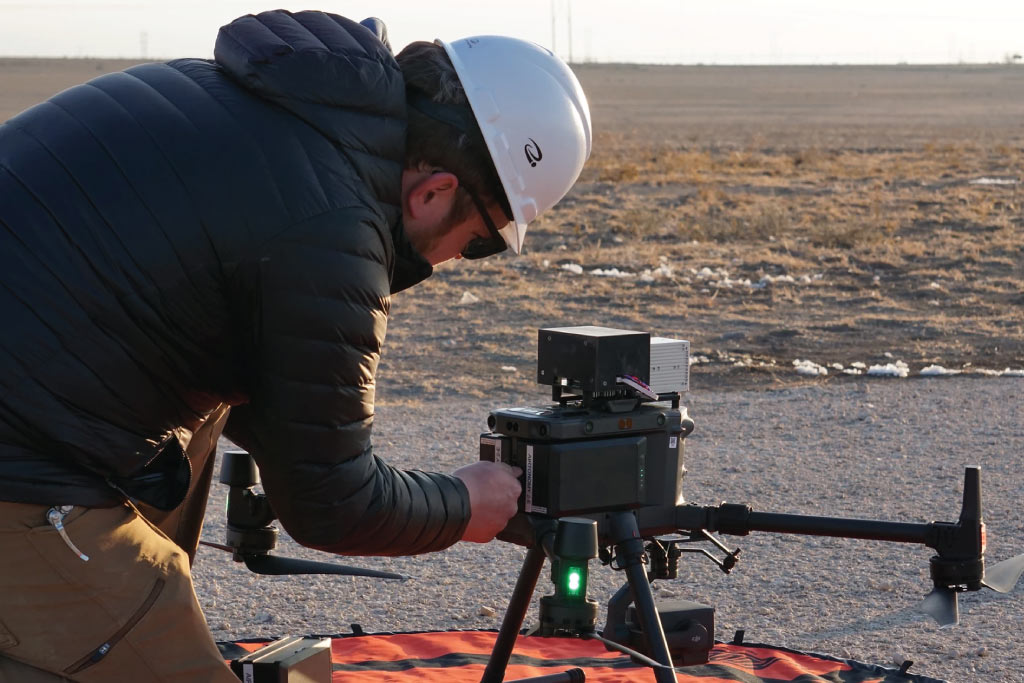 Airtonomy
Develops software for analyzing data collected by autonomous unmanned systems
Airtonomy is a different kind of drone company. It develops software that allows drones to fly autonomously, do the work their payload is programmed for, and return to base—all with just a push of a button.
The company was founded in 2018 by John D. Odegard School of Aerospace Sciences Professor Jim Higgins, '99, '05, then-UND computer science associate professor Travis Desell, and Josh Riedy.
"We're agnostic to the actual drone," explains Higgins. "Whatever drone our customer chooses to use, our software will go on board to take care of all the flying automatically, it'll automate the data collection, and it'll automate the analysis of that data."
The company has grown over its five-year existence to 45 employees. Higgins says about a dozen are UND graduates with some from the UAS and aviation programs and others from mechanical engineering.
"Our average payroll is six figures," said Higgins. "So, we are hiring folks into really good jobs in the local community, which is great for the economy and allows us to keep people here."
Airtonomy recently won the $1 million grand prize in the GENIUS NY accelerator competition. Nearly 600 companies took part in what is billed as the largest business accelerator competition for unmanned systems, Internet of Things, and big data startups.
"There's no doubt that served as a big validation for us and our plan," said Higgins of winning the Shark Tank-like competition. "It has brought in world-class talent to our company, leading roboticists and people with tremendous industry experience. The future's just really, really bright."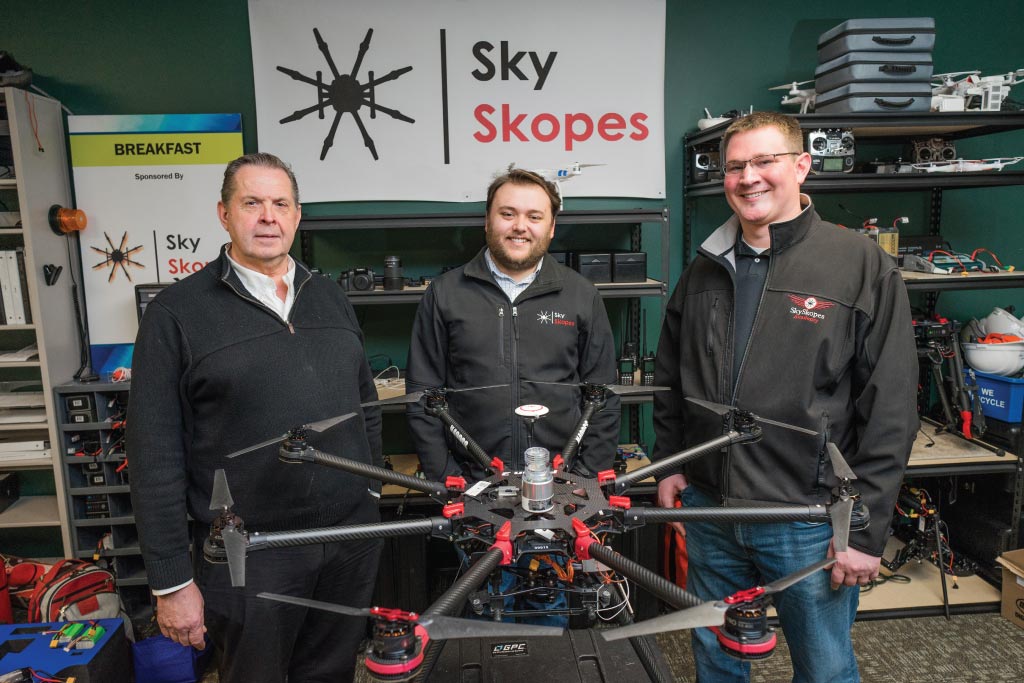 Skyskopes
Drone-based inspection company focused on servicing the energy sector
In 2015, SkySkopes became the first UAS startup in North Dakota to be approved by the Federal Aviation Administration to fly commercial UAS. The company was also the first to receive permission to fly at night.
Founder Matt Dunlevy, '10, '20, '21, (pictured above on the right) says the idea for the company came to him as he was teaching an entrepreneurship class at UND in 2014. His students were assigned to create a business plan and asked him to show them how it should be done. As he was giving his presentation on his idea for a drone services company, he was suddenly "at a loss for words" as he realized he had a very viable idea.
The company started slowly – shooting aerial footage of weddings and for real estate promotion. Eventually, Matt saw potential in the energy sector and went about convincing energy companies that drones could do inspections safely and at a lower cost than traditional methods, which often involved manned helicopter flights.
As they proved the worth of unmanned systems, SkySkopes was the first company in the country to use drones to string power lines, again a job traditionally done by helicopters.
As SkySkopes has evolved, its pilots (many are UND alumni) fly helicopters when heavier data collections systems are needed and drones when the payload and vehicle can stay under 55 pounds (the limit set in the FAA's Part 107 regulations for commercial UAVs).
Now, Dunlevy says SkySkopes has offices all over the U.S. with its largest operation in Los Angeles where its pilots do wildfire mitigation missions for electric utility Southern California Edison.
He credits the ecosystem that sprung up around the Global Hawk mission at Grand Forks Air Force Base for making SkySkopes a possibility and helping it thrive.
"I've been all over the place for UAS missions and UAS-related events, and any time North Dakota is brought up, everyone starts smiling and nodding. It's almost like a right of passage to be in the UAS industry to know that North Dakota has it going on with UAS."
In 2020, SkySkopes was named the top drone service provider in the U.S.