How launching a successful juice startup helped a Nashville singer/songwriter leave the road behind.
Celeste Krenz, '90, has always done things on her own terms. When she was finding success as a singer/songwriter, she eschewed the record labels that wanted to sign her to contracts she believed would stifle, rather than nurture, her career, so she often acted as her own promoter, booker, and manager.
In a career that spanned more than 20 years, Celeste shared the stage with LeAnn Rimes, Hall and Oates, and many others while also filling venues as a headliner. She released 10 albums, with her second, "Slow Burning Flame," rising to No. 11 on Gavin's Americana music chart in 1994.
But that music career is essentially behind her now. A decade ago, Celeste found the pull of home and family winning out over touring and love of performance after a conversation with her son, Sam.
On his 9th birthday, Sam asked how long his mom had known him. She replied that she had, of course, known him his entire life. Sam, however, said the correct answer was four-and-a-half years since "you're away from home half the time."
"It was just like a stab in the heart," says Celeste. "And at that point, I was just like, yeah, you know, I want to spend my precious time with my kid and maybe find a life partner that I love, and maybe wake up in the same place a month in a row … I hadn't done that since I was probably 22. I'd been touring anywhere from 150 to 250 days a year."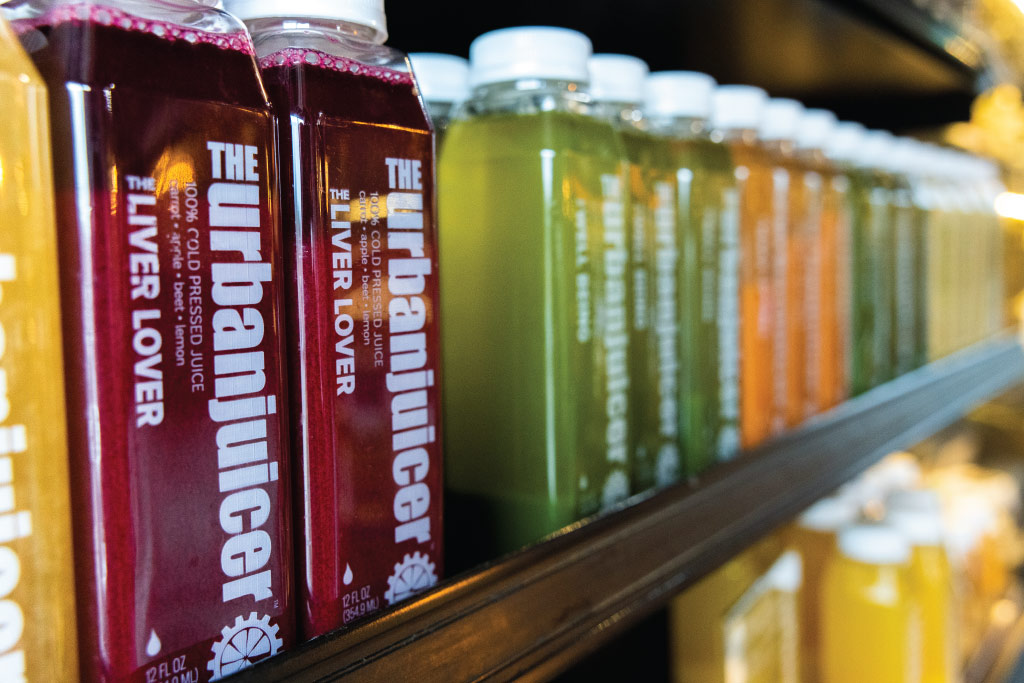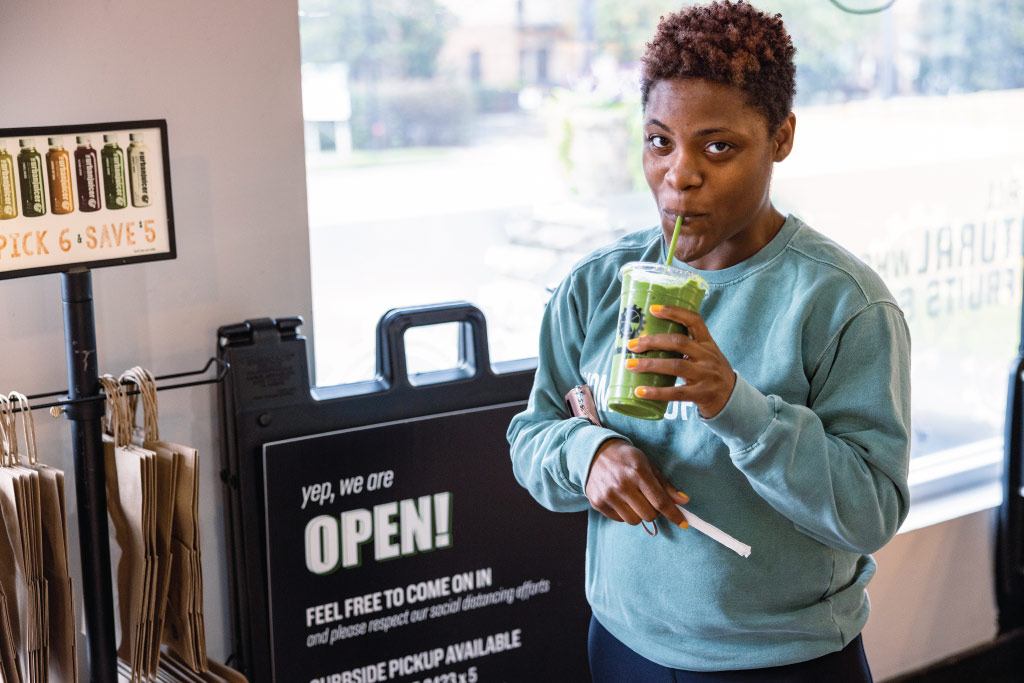 TAKING THE EXIT
What does a driven performer do that gives them the same thrill as the road? In Celeste's case, she found a business to pour her energy into.
In 2011, newly married, she and her husband, Bill Feehely, along with a family friend, were discussing the lack of fresh juice options in the city of Nashville. Celeste had lived several years in Denver where juice bars and vegan/vegetarian restaurants were plentiful. The conversation led them to purchase a small juice bar in a Nashville-area YMCA and The Urban Juicer was born. A stand-alone Music City store soon opened. "It was perfect timing. With no advertising, it was a line around the block and parking jams, so we knew there was a real desire for it."
Now, there are six locations around town and the first Urban Juicer outside Nashville operates in the Pittsburgh airport with more airport locations to come.
In addition to smoothies and juices, The Urban Juicer also offers açai bowls, wraps, sandwiches, and flatbreads. The company prides itself on its fresh ingredients. In its shops, fresh fruits and vegetables are juiced when a customer places an order. The company also sells bottled cold-press juices, which are created in a hydraulic press that applies thousands of pounds of pressure without the use of heat to extract all the enzymes and nutrients possible.
Cold-press juices like the Flu Shot Booster are made with ginger, lemon, cayenne, garlic, alkaline water and honey. The Well Being, The Urban Juicer's most popular drink, contains apple, cucumber, spinach, kale, ginger, and lemon. "This one juice – between our fresh juices, our bottled juices, and our smoothies – accounts for about 38% of our total sales for the whole company."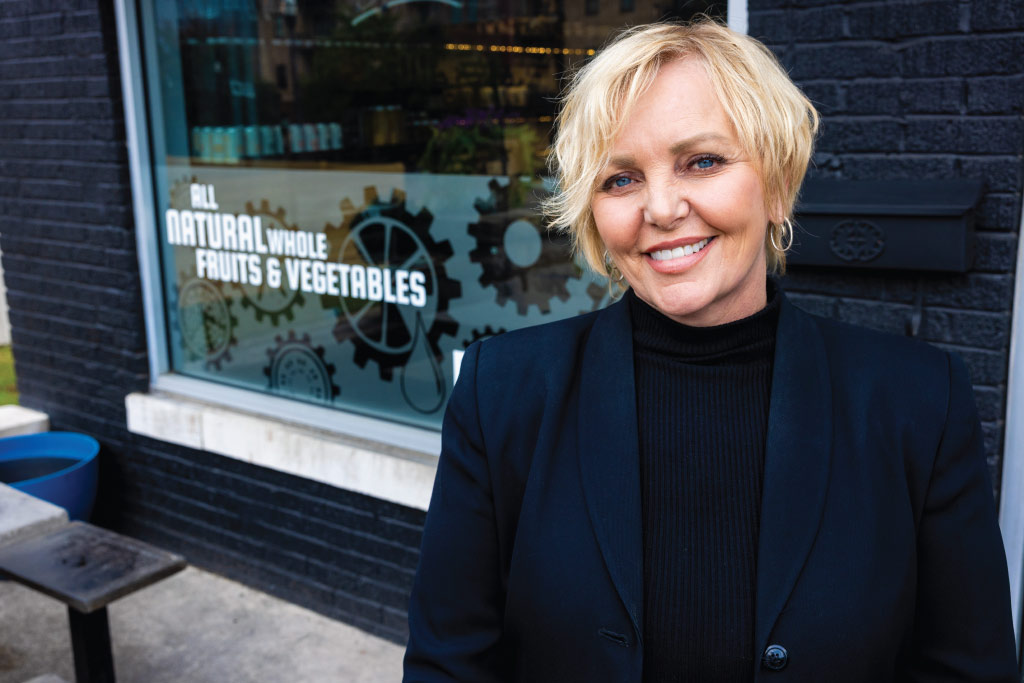 A NEW DEFINITION
The process of creating recipes helped Celeste make a break from the only life she'd ever known."For so many years, if you would ask me, 'Are you ever going to not be a music artist?' I would almost cry. That's who I am. Who am I without that? And then I was able to separate from that and realize creativity is not just music. It's finding things in life that make the world better, creating community and jobs and in this case coming up with a beautiful wellness company and yes, an amazing new smoothie or juice. It's coming up with something that's nurturing and yummy."
Creativity is not the only parallel Celeste draws between music and running a juice company. She says assembling the right team of workers is like putting a band together: can they play to their strengths and consistently create magic for their customers? The answer for The Urban Juicer is yes; it has been named the best juice company in Nashville three years in a row.
Celeste changed her major multiple times during the seven years it took her to earn a degree in Communications from UND. Though she pursued music as a career, she says her time at UND taught her how to market herself and she did graphic design work as a side job while touring. That has come in handy as she's transitioned into business ownership.
"I can mock something up in Photoshop and hand it off to a graphic designer and say, 'Just fix this and make it great.'
MUSIC MISGIVINGS?
Ask Celeste if she has any regrets about leaving music behind and she'll tell you she loves her current life and lives with no misgivings.
If I had not followed my passion for music and chosen a safer job, that would have been a box for me. But there's no box here. I'm happy.
A NOTE FROM THE AUTHOR
When I interviewed Celeste, a Williston, North Dakota, native, in 2011 for a music-themed issue of this magazine, Celeste told me the highlight of her music career was that she had done it and that it was more about the journey than any one moment in time. When I reminded her of the quote and asked if it applied to this endeavor, she was emotional. "Absolutely. That makes we want to cry because that is exactly how I feel about everything. I'm just loving working with the people here. I love the work I do."
Milo Smith is the UND Alumni Association & Foundation's Senior Director of Public Relations & Videography. He has been a mainstay of this magazine since 2010.