UND alumna Amanda Godfread connects two of her 'families' through Make-A-Wish magic.
At the UND Alumni Association & Foundation, we often speak of University of North Dakota alumni, friends, students, faculty, and staff as part of a family.
Amanda (Hvidsten) Godfread, '01, recently realized the intersection of her UND "family" with her employer, Make-A-Wish North Dakota, a nonprofit organization that creates life-changing wishes for children with critical illnesses.
"We call ourselves the 'Wish family,'" said Amanda, who serves as regional director of Make-A-Wish North Dakota. "And I just thought it was really neat that there's this overlap in these two 'family' groups."
As the organization celebrates its 35th year in North Dakota, Amanda finds herself reflecting on the many with UND connections who are also connected to Make-A-Wish.
"The wish experience is what propels many kids forward toward that brighter future. In fact, research shows that kids who receive a wish from Make-A-Wish do better in their health journey than kids who do not," Amanda says. "For those who go on to UND, that experience gives them the tools to live out their dreams as adults."
Last year alone, Make-A-Wish North Dakota granted 51 wishes to children in North Dakota, and 950 in its 35-year history. (Nationally, the Make-A-Wish Foundation® grants more than 15,600 wishes for children with critical illnesses in the U.S. every year, and has fulfilled more than 315,000 wishes since 1980.)
Amanda began her journey with Make-A-Wish as a volunteer, and when the regional director position opened, she felt called to it. She has been a part of wishes ranging from trips to Disney, to building an adaptive playset, to a room makeover.
"You realize how naturally isolated illness makes children – whether it's cancer or cystic fibrosis or Duchenne muscular dystrophy or any of these illnesses," she said. "And so they don't get to decide who they want to play with, or they don't get to decide what they want to eat for dinner, or they don't get to decide when they can go outside, you know, things that we take for granted. And so, to be able to have a voice and be able to say, 'I wish for,' and then see that come true ... it's very heartwarming, and it's very intense."
BRITTANY DVORAK
UND Ties
Brittany Dvorak, '18, graduated from UND with a bachelor's degree in communication and a minor in sports business. As a student, she worked as an intern with both UND Athletics and the North Dakota Champions Club. Today, she is Assistant to the General Manager at Ralph Engelstad Arena.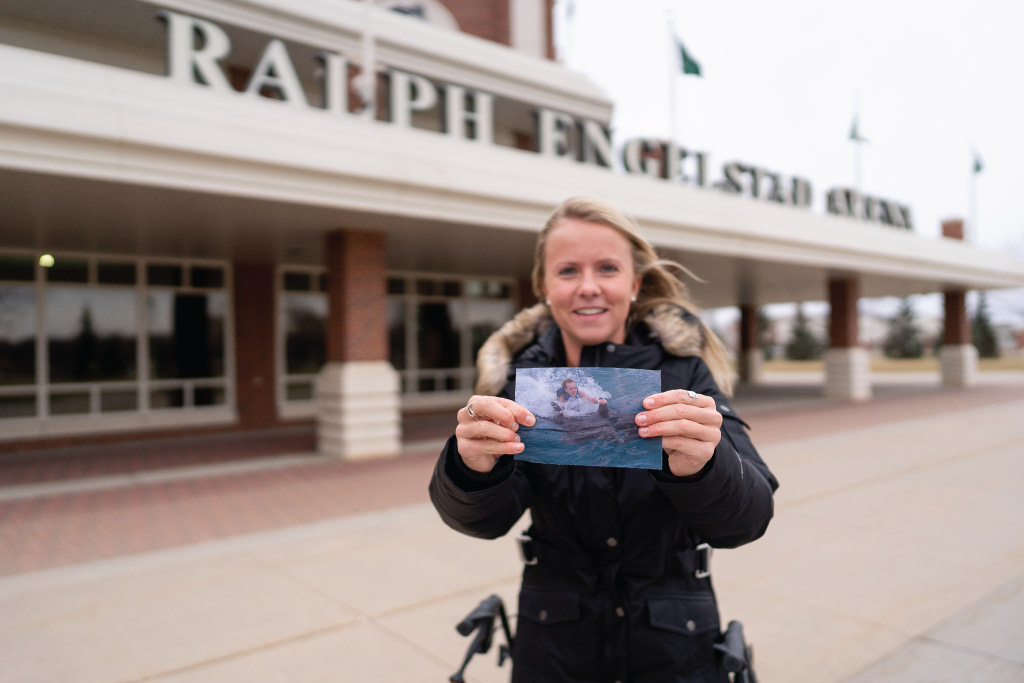 Diagnosis
T-Cell Acute Lymphoblastic Leukemia (ALL). When she was 13, Brittany's parents brought her to the ER when she was struggling to breathe. Upon discovering a grapefruit-sized tumor obstructing her airway, she was flown by air ambulance to Mayo Clinic in Rochester, Minnesota, where she was diagnosed and began treatment.
The Future
Brittany has always loved sports, and she loves connecting with her community, so her job at Ralph Engelstad Arena is a great fit. But her cancer journey has led her to give back in other ways. Aside from volunteering with Make-A-Wish, she has also given her time to Love Your Melon, the Pinky Swear Foundation, and the AO1 Foundation. When she was involved in Love Your Melon, Brittany met and befriended fellow Wish child Landon Solberg, a Fargo boy who later passed away as a result of a brain tumor. Now, Brittany is involved with the Landon's Light Foundation, which honors the lasting impact of his life by shining his light and teaching others to "Live like Landon." "It's probably one of the most unique and meaningful things I've experienced through my ride," she says.
Words to Live By
"Life's a Ride." Long before her diagnosis, Brittany had attended a Relay for Life event where her family honored a friend who had died of childhood cancer. After the event, she drew a picture with the words "Life's a Ride" in her journal. Nine months into treatment for cancer, Brittany received a toxic dose of chemotherapy that ultimately left her partially paralyzed. "It's not what I dreamt of as a little girl, but now that I went through everything, I wouldn't change it," she says. "Clearly I had greater potential than what I was showing. God saw that in me and said, 'You have to go through a little more, and you'll get through it.' That's been my motto: Life's a Ride."
CLARA BEATON
UND Ties
Clara Beaton's mom, Lana (Bollman), has worked at UND as a Grants & Contracts officer since 2019. Clara's grandfather, Jim Bollman, was a radio play-by-play announcer for UND football and basketball games for more than 50 years, and brother Alex is a current freshman studying mechanical engineering. "We grew up on campus, going to football games, basketball games, band concerts. We never missed a Potato Bowl parade. We bled green and white – I mean really," Lana said. "There was never any question that Alex would attend UND."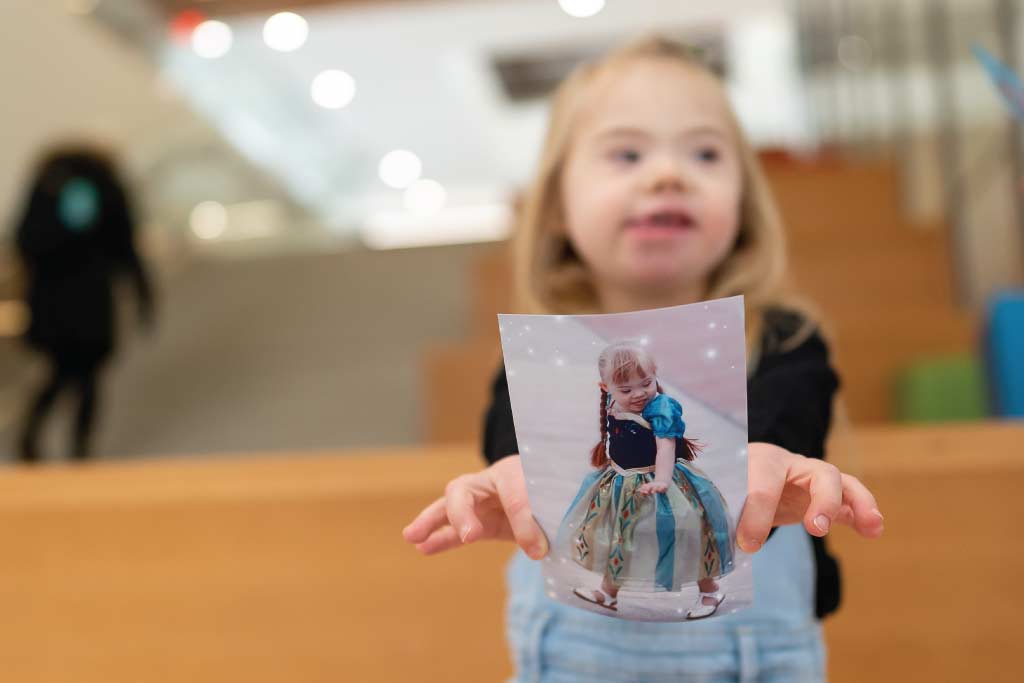 Diagnosis
Hirschprung's Disease. Clara, who is now 5 years old and has Down syndrome, underwent heart surgery for a heart defect at 3 months old, battles Crohn's Disease, and was diagnosed with Hirschprung's Disease, a congenital condition of the large intestine that results in a malformed colon, when she was 2 years old.
Make-A-Wish Highlight
Watching Clara swim for the first time. "Her joy was so next level that all of us were like, 'why haven't we done this before?'" Lana said. "But you're so afraid when your kiddo is sick and struggling ... you're afraid to rock the boat, you're afraid to try new things. Because what if it doesn't work? Or what if something goes wrong?"
The Future
Clara is currently in pre-K at Discovery Elementary School's early childhood special education program. She and her best buddy, Cutler, have a Facebook page, "Clara & Cutler" that follows their journey with a mission of building a better community and bringing awareness to Down Syndrome.
TYLER LARSON

UND Ties

Tyler Larson is a current senior at UND. He is seeking a bachelor's degree in history and public affairs, with a secondary education teaching certificate and a minor in nonprofit leadership.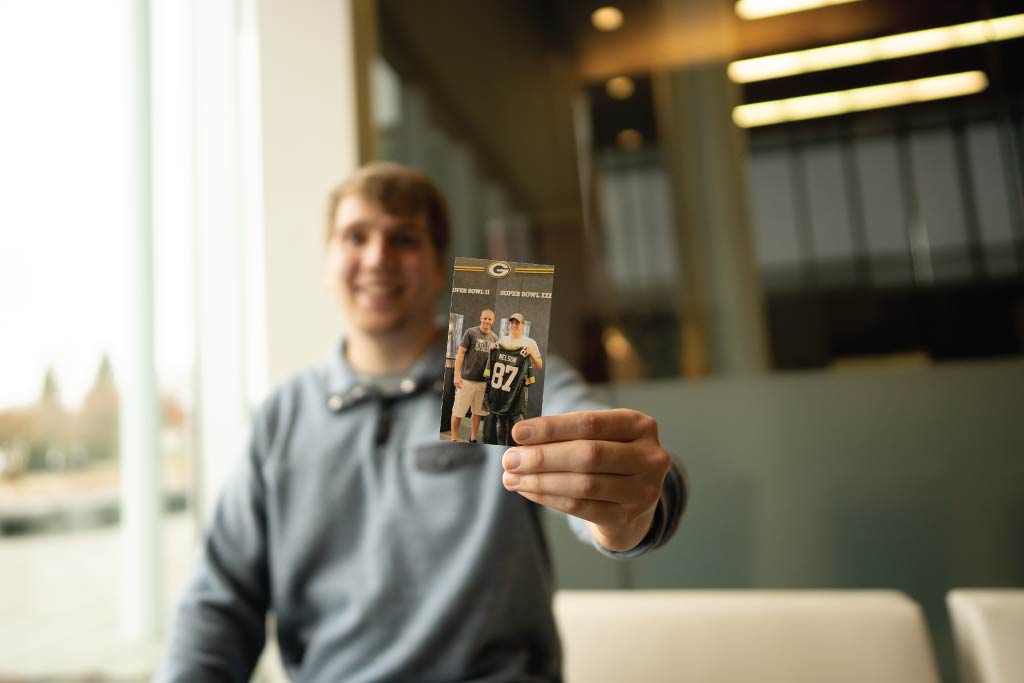 Diagnosis
Germinoma brain cancer. When he was 16, Tyler began to lose vision is his right eye, and an MRI revealed a series of malignant brain tumors. He has been cancer-free for the past four years.
Make-A-Wish Highlights
Meeting his favorite Packers player at the time: Jordy Nelson. He also got to talk to Aaron Rodgers before the game (which happened to be against rival Chicago Bears), and took a picture with him on Lambeau Field. "That was really cool," Tyler said.
The Future
Tyler is set to graduate from UND in May. He plans to someday get a job as a high school teacher in rural North Dakota, and eventually achieve a master's degree in Educational Administration so that he can become a principal or superintendent. Tyler is the founder of the Penny House, a nonprofit youth organization dedicated to giving youth a safe and fun environment to hang out. So far, it has locations in Grand Forks and Harvey, North Dakota, but Tyler has a growth mindset.
"Penny House's mission is to inspire leadership and confidence in students by providing them a place to flourish and keep them out of destructive behavior," he said. "I want to keep spreading that vision across North Dakota."
As a student, Tyler has been involved in InterVarsity Christian Fellowship, Varsity Gentlemen, and the Nonprofit Student Leadership Organization.
JACK PARRISH
UND Ties
Jack Parrish's mother, Cassie Gerhardt, '96, '08, is Associate Vice President for Student Affairs & Diversity and Associate Dean of Students and has served many administrative roles at UND. In 2013, she won the Young Alumni Achievement Award and is known around campus for her UND-themed, green and pink wardrobe. His father, Brad Parrish, '05, is Assistant Dean for Student Services at the UND School of Law.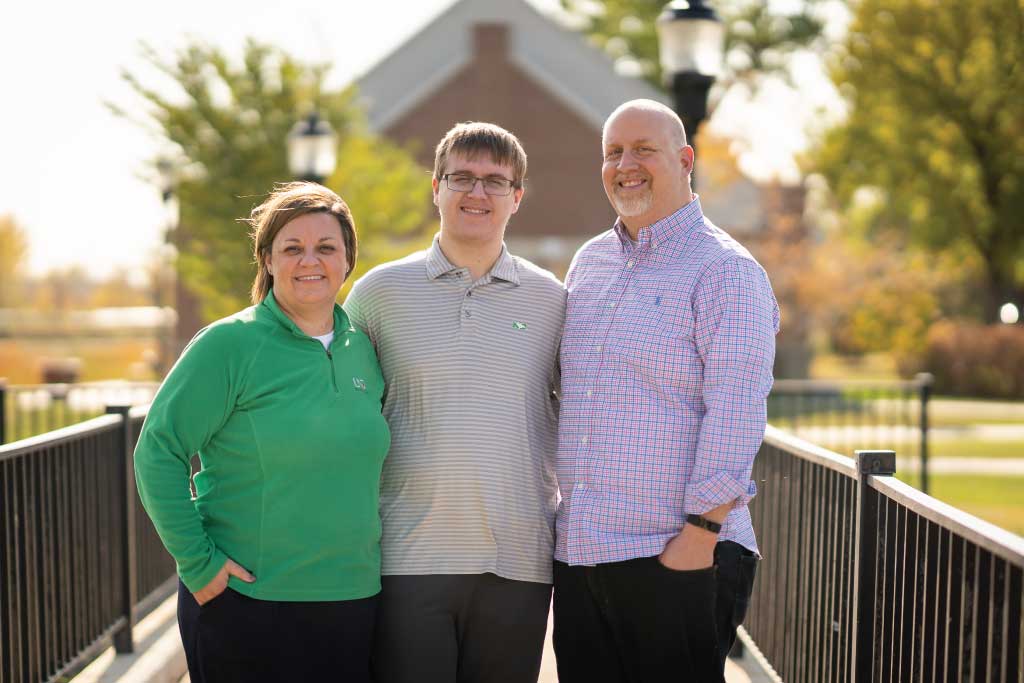 Diagnosis
Acute Lymphoblastic Leukemia (ALL). When he was 7 years old, Jack was life flighted to Mayo as he was septic at the time of his diagnosis. "It was pretty intense for about the first year as we made frequent trips to Mayo for his treatments," Cassie said. "But now, he's considered cured."
Make-A-Wish Highlights
Jack remembers a water show that had a simulated dynamite explosion, and he got to push down the TNT handles. He and his little brother, Alex, enjoyed ice cream and bacon every morning for breakfast. And one day, their mom lied about Alex's age so he could ride the go-carts. "I'm the mom who chose to lie so my kid could ride the go-carts," Cassie laughed. "It was worth it."
The Future
Jack, 16, is a junior at Grand Forks Red River High School. He plans to study cybersecurity in college and is leaning toward attending UND.
EXTENDED FAMILY
While this is not a complete list, a few others connected to Make-A-Wish and UND are:
Weston Dressler, '08, of UND football fame. He is the Senior Community Relations Specialist for Sanford Health, and is in his first term on the board of directors for Make-A-Wish North Dakota.
Gwen Klawon, outreach, recruitment and retention specialist in the College of Engineering & Mines, is a wish-granting volunteer.
Dan Conrad, '96, CEO of Blue Cross Blue Shield ND is a wish dad and now serves on the board of directors for Make-A-Wish North Dakota.